UK National Institute of Economic and Social Research (NIESR) pushed back their BoE rate expectation by a year in the new forecasts. NIESR economist Garry Young said "now we expect the first increase in Bank Rate to be next August rather than this August."
NIESR also noted that Brexit related uncertainty "has led to investment plans being deferred and increased stockbuilding." Under the main scenario of "soft Brexit", GDP growth will continue at around 1.5% in both 2019 and 2020. Unemployment rate will stay at around 4%. CPI will remain at around 2%.
Regarding different Brexit scenarios, growth will be similar between staying in EU and "soft Brexit". However, growth will be weaker is UK is to stay in the customs union, and even worse in a no-deal Brexit.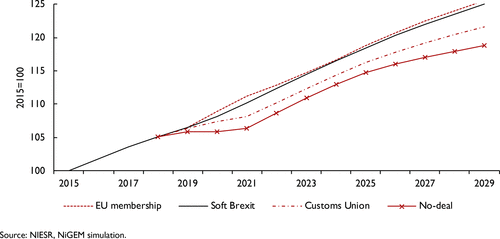 "Prospects for the UK Economy" details.