New Zealand CPI rose 0.7% qoq in Q3, above expectation of 0.6% qoq. Annually, CPI slowed to 1.5% yoy, down from 1.7% yoy, but beat expectation of 1.4% yoy. The trimmed-mean measures – which exclude extreme price movements – ranged from 1.7% to 1.8% for the year. This indicates that underlying inflation is higher than the 1.5% overall increase in the CPI. On a quarterly basis, trimmed means ranged from 0.5% to 0.6%.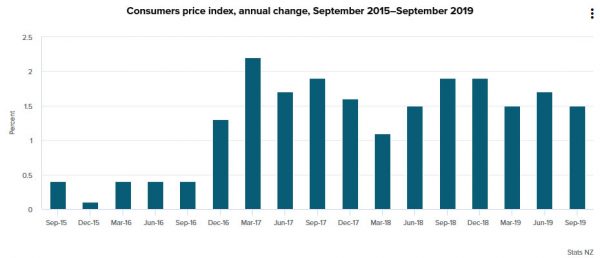 Separately, RBNZ Deputy Governor Geoff Bascand said in a speech that New Zealand remains vulnerable to external shocks. And, "lower rates still may be needed to achieve our inflation and maximum sustainable employment objectives". He added that there is reasonable prospect for the cash rate to go lower.
Despite slightly stronger than expected inflation data, RBNZ is still generally expected to cut interest rate further from the current 1.00% level. The need for another shocking -50bps cut, like the one in August, is less likely though. The central bank is now expected to cut another -25bps in November, and probably another -25bps in February.