Eurozone PMI manufacturing was finalized at 45.9 in October, up from September's 45.7. Markit noted sustained weakness in output, new orders and purchasing. Also, job shedding accelerated to the sharpest since start of 2013. Looking at some member states, Germany reading recovered 42.1 but stayed well below 50. Spain dropped to 78-month-of 46.8. Italy dropped to 7-month low of 47.7. France recovered to 50.7.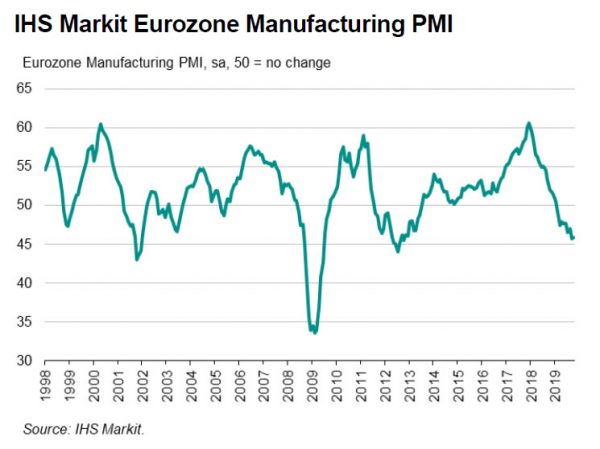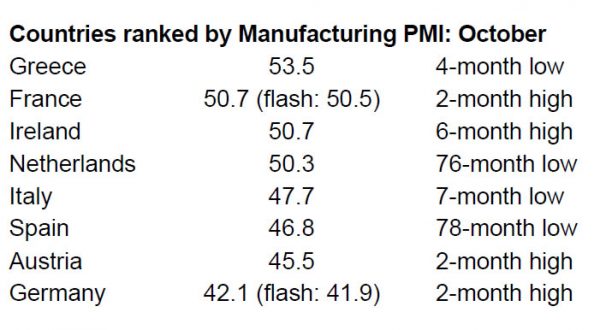 Commenting on the final Manufacturing PMI data, Chris Williamson, Chief Business Economist at IHS Markit said:
"Eurozone manufacturing remained stuck in its steepest decline for seven years in October, meaning the goods producing sector is on course to act as a severe drag on GDP again in the fourth quarter. The survey data are consistent with industrial production falling at a quarterly rate in excess of 1%.
"Geopolitical concerns, ranging from Brexit to US trade policy, continue to create uncertainty, further dampening demand both at home and in export markets.
"The focus of manufacturers remains on cost cutting, reducing inventories and investment spending while also lowering payroll numbers at an increased rate. The steeper pace of job losses is especially worrying, as it magnifies the risk of the downturn spilling over into the household sector.
"Producer prices, meanwhile, fell at a rate little changed on September's three-and-a-half year record as weak demand prompted companies to offer discounts, which is likely to feed through to lower inflation in the coming months.
"The severity of the downturn, alongside poor trends in employment and prices is especially disappointing given the ECB's recent stimulus measures, underscoring how new ECB head Christine Lagarde is taking over the reins at a particularly difficult juncture for the eurozone economy."