Eurozone PMI Services was finalized at 51.9 in November, down from October's 52.2. PMI Composite was finalized at 50.6, unchanged from last month's reading. Looking at some member states, Germany PMI Composite was finalized at 49.4, hitting a 2-month high but stayed below 50. Italy PMI Composite dropped to 49.6, 7-month low. France PMI Composite dipped to 2-month low of 52.1 but stayed comfortably above 50.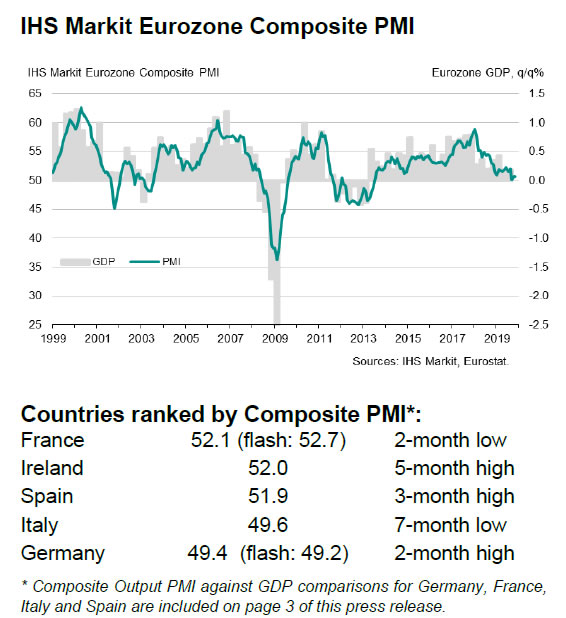 Chris Williamson, Chief Business Economist at IHS Markit said:
"The final eurozone PMI for November came in slightly ahead of the earlier flash estimate but still indicates a near-stagnant economy. The survey data are indicating GDP growth of just 0.1% in the fourth quarter, with manufacturing continuing to act as a major drag. Worryingly, the service sector is also on course for its weakest quarterly expansion for five years, hinting strongly that the slowdown continues to spread.
"New orders have not shown any growth since August, underscoring the recent weakness of demand, with sharply declining orders for manufactured goods accompanied by substantially weaker gains of new business into the service sector. Expectations are also among the lowest since the tail end of the sovereign debt crisis in 2013, as firms worry about trade wars, Brexit and slowing economic growth both at home and globally.
"The near-stalling of the economy has been accompanied by some of the weakest price pressures we've seen in recent years, which threatens to keep inflation well below the ECB's target in coming months and adds to the likelihood of further policy stimulus early next year."