The sharp fall in 10 year yield yesterday, down -0.021 to close at 2.936, is in line with our view that TNX has topped out in near term. And we'll likely see more downside in near term. First line of defence is at 55 day EMA (now at 2.827). But as mentioned in the weekly report, if fall from 3.035 is correcting the five wave sequence from 2.033, then it could drop further to 2.717 support before completion. We'll continue to see how it's playing out given the number of important events in US this week, including FOMC, ISMs and NFP. But after all, having some consolidations before another take on key resistance of 2013 high at 3.036 is not unreasonable.
30 year yield's sharp fall also confirmed short term topping at 3.219 after failing 3.221 near term resistance. For now TYX would dip lower back to 55 day EMA (now at 3.062). Or it would have another take on 50% retracement of 2.651 to 3.221 at 2.936.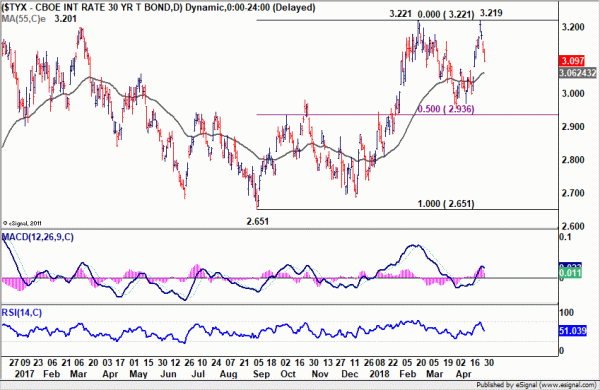 Meanwhile, we'd like to point out again that while there is some downside for yields, we're not expecting it to drag down the Dollar. Instead, they might just give no support to the greenback.