Crude oil prices jumped amidst more optimistic news above coronavirus vaccine. The market also anticipates OPEC+ to extend the output cut deal until 1Q2021. For the latter, it appears that most OPEC+ producers agree to extend the cut as global oil demand should remain weak for the year ahead. Yet, we doubt if further cuts is effective to re-balance the demand/supply equation. The latest data shows that producers exempted from quotas were responsible for the the supply growth.
OPEC+ Compliance
According to S&P Platts' survey, OPEC+ (13 OPEC members and some non-OPEC producers) collectively produced 37.27M bpd in October, up from 0.21M bpd from a month ago. The increase in output came from OPEC members that were exempted from quota. Indeed, OPEC-10 and the 9 non-OPEC members subject to quotas collectively achieved a compliance level of 100.2% last month.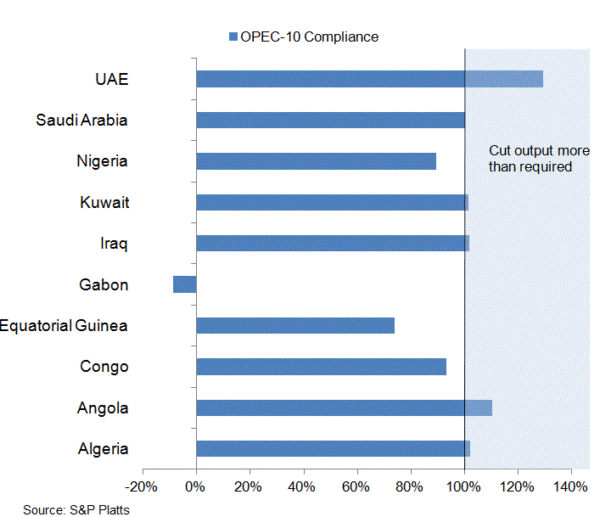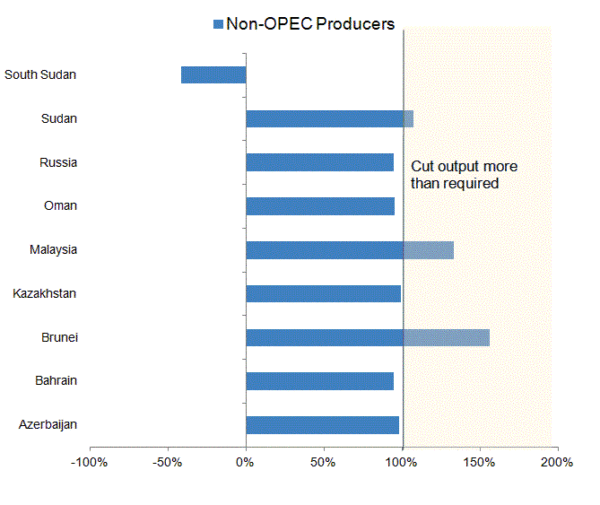 Concerning OPEC-10, the compliance level rose to 103% from September's 101%, thanks to the deep cut by the UAE. The country pumped 2.42M bpd in October, down -0.12M bpd from a month ago. The reduction came in more than the -0.1M bpd "compensation cut" required. Abu Dhabi National Oil, the state-owned company, suggested that the extra cuts will continue in November and December. Saudi Arabia, the world's third largest producer, pumped 8.99M bpd in October, unchanged from a month ago. The kingdom has been one of the most compliant producers in the alliance. By contrast, Nigeria produced 1.53M bpd last month, reaching a compliance level short of 90%. It appears challenging to make Nigeria more compliant as the country' production is at its lowest since December 2016.
Non-OPEC producers joining the deal reached a compliance of 95.5% in October, down slightly from 96% a month ago. Russia, the world's second largest producers, raised output to 9.11M bpd, from 9.1M bpd in September. Its compliance level slipped -0.8 pps to 94.2%. Together with OPEC-10, total compliance level increased to 100.2%, from 99% previously.
Despite better compliance, total output increased last month as a result of more aggressive production from cut-exempted OPEC members. Libya pumped +0.46M bpd in October, almost tripling that of the prior month. This marks the country's highest output since January. Libya is exempted from the output cut deal as the country's output had been seriously affected by the decade long civil war. A peace deal was only reached in September, with oil blockade conditionally lifted. Venezuela's output also rose to +0.41M bpd in October, up from 0.39 a month ago.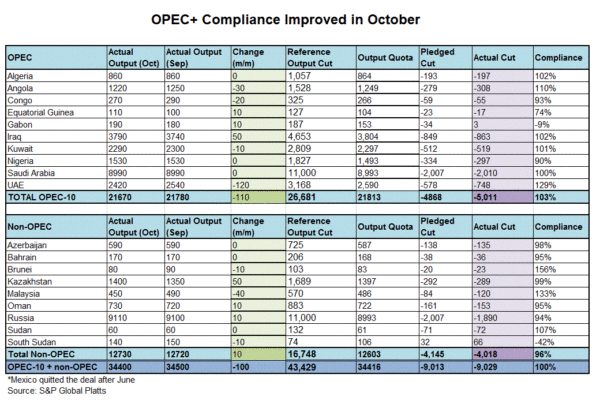 OPEC+ Deal
OPEC+ agreed to reduce total output by 7.7M bod from August to December, compared with 9.7M bpd from May to July. The output cut is scheduled to be tapered further to 5.7M bpd from January 2021 to April 2022. The alliance met this week to discuss the possibility of maintaining the output cut of 7.7M bpd until 1Q21 as global oil demand has remained weak. The technical meeting held yesterday suggested that most producers tentatively agreed to the idea. A final decision will be made later this month.
While less output can help re-balance the market, the October report shows that total OPEC+ output increased despite better compliance. The problem is that OPEC members Iran, Libya and Venezuela are exempt from the deal. These countries seek to aggressively increase output in order to compensate their losses in previous years. We do not expect the extension of output cut to effectively re-balance the demand/supply equation. Any oil price rally in light of this should prove short-lived.