For the first time since November 2016, RBNZ lowered the OCR, by +25 bps, to 1.5% in May. At the monetary policy statement, it indicated that "a lower OCR is necessary to support the outlook for employment and inflation consistent with its policy remit". Some banks, including ANZ and Kiwibank, have also reduced their lending rates as a result. Both NZD and bond yields slumped. At this meeting, the central bank has affirmed a dovish stance on the economic outlook. The rate cut has marked the resumption of the easing cycle and a few more rate cuts should be expected in the coming year.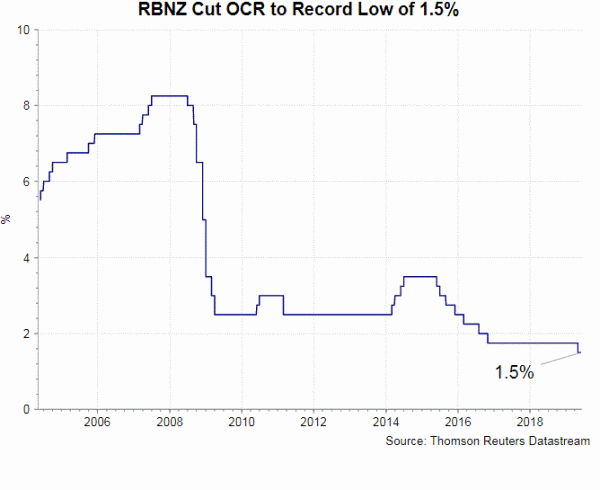 The members have turned more pessimistic over the global and domestic economic developments than the February meeting. They acknowledged that global growth slowdown since mid-2019 has trimmed demand from the country, adding that the outlook remains uncertainty.
Domestically, growth has also slowed from 2H18. Sluggish growth in household spending was driven by a number of factors including "lower net immigration" and "continuing house price softness in some areas". Business investment was also tempered by "ongoing low business sentiment, tighter profit margins, and competition for resources". Back in February, the members were still hopeful that growth would be lifted by low interest rates and government spending. As such, RBNZ has slashed GDP growth forecast for 2019 while revising higher the estimates from 2020 to 2022.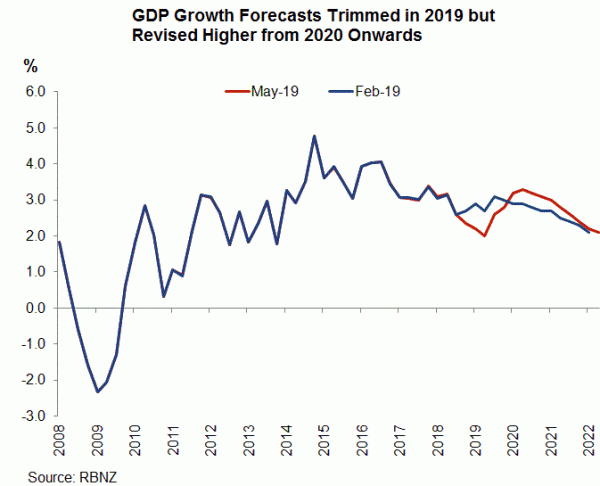 Expectations of deterioration of employment and very slow improvement in inflation are key drivers of the rate cut decision. While reaffirming that employment is near its maximum sustainable level, the central bank raised concerns that the growth outlook would be "more subdued". It also expects inflation to "rise only slowly" as "capacity pressure is expected to ease slightly in 2019".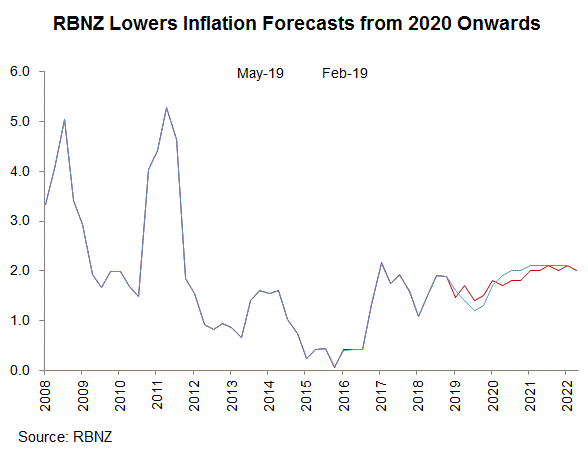 At the concluding statement, RBNZ suggested that "a lower OCR now is most consistent with achieving our objectives and provides a more balanced outlook for interest rates". In February, the central bank still noted that the next move could be up or down. The rate cut in May has made RBNZ the first advanced economy to resume its easing cycle. As suggested in the MPS, another rate cut could come in early 2020. The policy rate might bottom at 1.36% in the second half of next year, before recovering to 1.93% by mid-2022. In February, the MPS forecast no rate cut and the policy rate would rise to 2.36% by early 2022.