The latest set of macroeconomic data for China shows signs of stabilization. This could be attributed to the government's expansionary policies both monetarily and fiscally. While the government is expected to add more stimuli this year, the challenge remains tough.
GDP growth eased to +6.4% y/y in 4Q18, from +6.5% a quarter ago. Year-over-year growth has been decelerating every consecutive quarter since 1Q18. For 2018 as a whole, economic growth eased to +6.6%, from +6.7% in the prior year. Struggling with softening domestic demand and ongoing trade war with the US, growth would continue to slow down this year. The IMF expects growth to weaken further to +6.2%, while the World Bank forecasts it to ease to +6.5%. Meanwhile, the government is expected to turn more cautious when it announces the annual growth target. It likely lowers its growth target to 6-6.5%, from "around 6.5%" in 2018.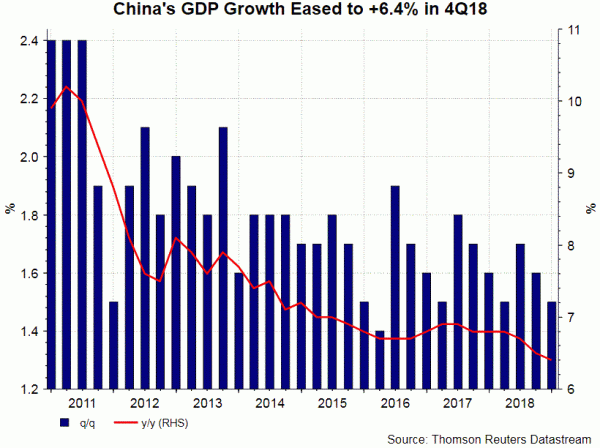 Urban fixed asset investment expanded +5.9% y/y in December, missing consensus of +6% but better than +5.9% in the first 11 months of the year. In short, the rebound in infrastructure investment was offset by a moderation in real estate. Looking into details, real estate investment remained the biggest growth driver but the pace has been stagnant since early 2018. In 2018, real estate investment in China expanded +9.5% y/y, down from +9.7% in the first 11 months of the year. Investment in manufacturing activities continued to improved, with growth rate also at +9.5% last year. Growth in infrastructural investment recovered to +3.8%. This marks the first recovery since 2017. The National Development and Reform Commission (NDRC) has been accelerating approval of infrastructural project. We expect the trend would continue this year, as the government seeks to stabilize the economy.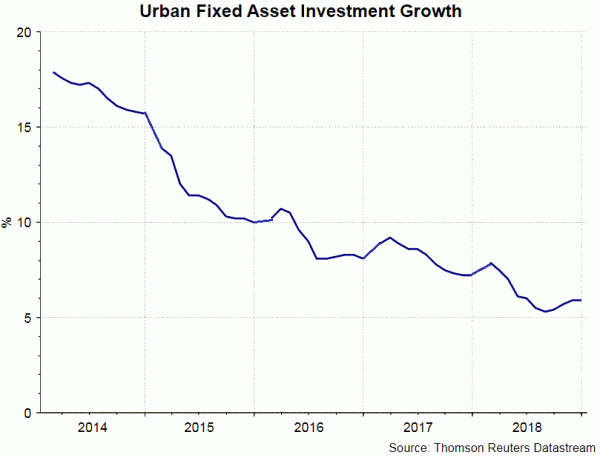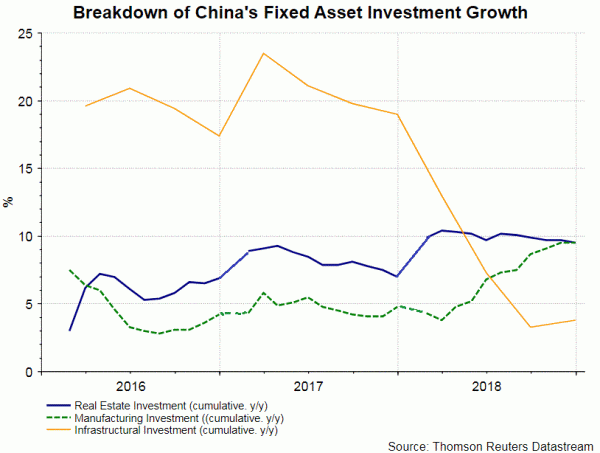 Industrial production recovered to +5.7% y/y in December, from +5.4% a month ago. This also beat consensus of +5.4%. Recall, however, that the pace is the second lowest since November 2015. The strength in December was mainly driven by the mining sector, cement and power generation. Retail sales growth climbed slightly higher to +8.2% y/y, from +8.1% in the prior month. The detailed report suggests that consumers have turned more cautious in their spending behavior. The decline in auto sales (-8.5% y/y) probably reveals hesitation in making consumption in luxurious items.
China's growth slowdown appears to have stabilized, as shown in the latest set of macroeconomic data. However, the challenge is here to stay. Although it is widely believed some sorts of trade deal could be reached between the US and China, other crucial issue concerning intellectual property and transfer of technology requires lengthy negotiations. We do not expect a deal on these aspects to materialize soon. It is likely that more and more countries would announce to ban the use of "made in China" electronic products. Chinese companies engaged in elated business would be facing a difficult time. we would not be surprised to hear more closure or loan defaults from these companies.