OPEC+ agreed to extend production cuts of -1.2M bpd 9 months to March 31, 2020. The extension came in longer than market expectations of 6 months, when the group meets to renegotiate further extension in December 2019. Another surprise was the price actions of crude oil. Both benchmarks – front- month WTI and Brent crude contracts- dived to the levels not seen in two weeks, worst reaction to OPEC over the past 4 years. The market is concerned that the output cut would not be sufficient to correct the imbalance driven by the global economic slowdown.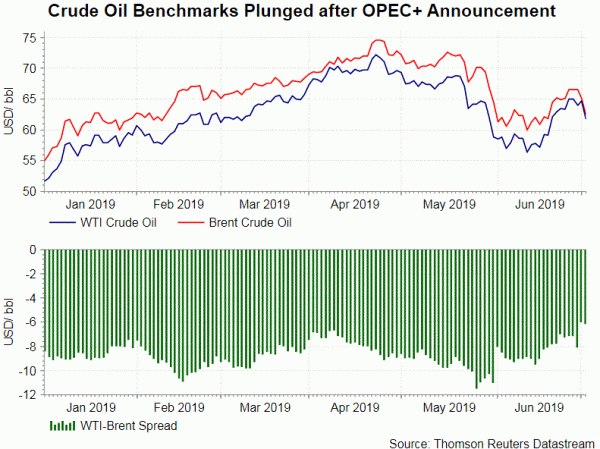 OPEC +, a 24-country coalition with OPEC and non-OPEC producers, agreed to cut 1.2M bpd output through March 2020. According to Saudi energy minister Khalid al-Falih, the 9-month extension seeks to cover 1Q20 (first quarter is a "seasonally weak" period) and to prevent a potential inventory build of 100M bpd. The objective of production cuts is a more normal inventory level, instead of price level. Having been reducing output by more than the quota over the past years, Saudi has again pledged to cut more deeply than required so as to reduce the inventory level.
Undoubtedly, US shale production has, in recent years, contributed aplenty to the rapid increase in oil inventory. The persistent output cut has been to counter the US output. As Al-Falih noted, until US shale output "peaks, plateaus and then declines like every other basin in history", it is "prudent for those of us who have a lot at stake, and also for us who want to protect the global economy and provide visibility going forward, to keep adjusting to it".
The benchmark for measure inventory has become more aggressive. Saudi has proposed to use the average of 2010-14 inventory in setting future output target, compared with the current "last five years' average". This method has, however, not reached consensus. Apparently, Russia has reservation on it as deeper output cut would be needed to return to the inventory level in that period. According to S&P's estimates, the overhang of OECD stocks was about 25 mmb as of May if the "last five years' average" was used. However, the overhang would surge to 214mmb if the reference is changed to "2010-14 average".