The upcoming New Zealand election would be a tight race between the incumbent National Party and Labor Party. Polls of polls compiled by both RNZ and Stuff indicate that supports for both parties are at around 40%. Moreover, opinion polls have been suggesting that neither of the parties would be able to a government without forming coalition with smaller parties. This is such uncertainty that has increased the volatility of New Zealand dollar of late. This report compares the impacts of various scenarios on the economic growth outlook and the monetary policy, hence the exchange rate. We believe that maintain the status quo – a minority government led by Nationals- would be the most NZD-favorable, while a Labor + Green+ NZ First trio would lead to an immediate, but short-term selloff in the currency.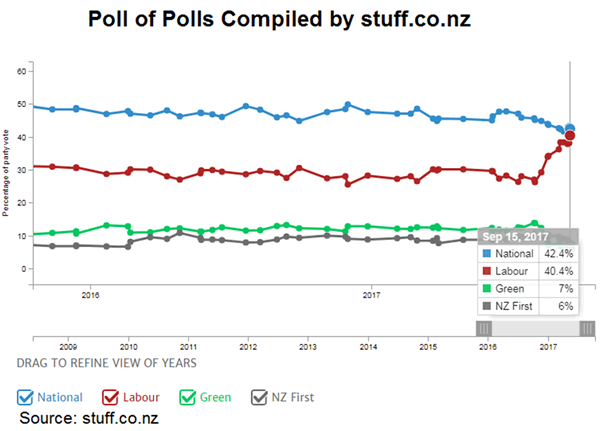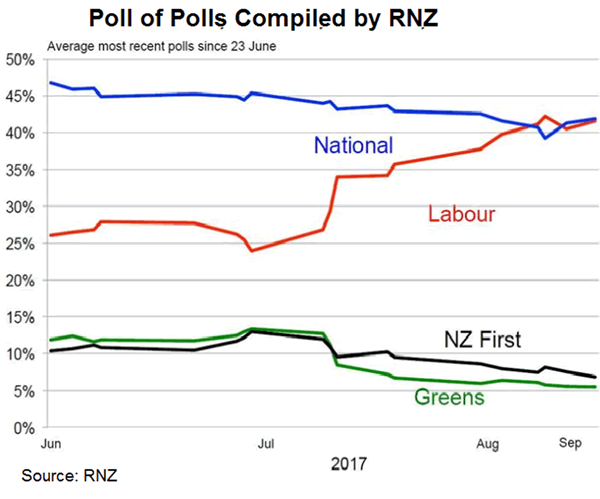 Nationals + other small parties
The National Party has been in office since 2008. Winning 60 seats, (61 is required to form a majority government, in the last election in 2014, Nationals entered confidence and supply agreements with a number of parties including United Future, ACT and Māori. The situation replicated that of the 2011 election, when Nationals got 58 seats, 2 seats short of a majority. Therefore, this scenario signals continuation of the status quo and should be the most favorable for New Zealand dollar with the least political uncertainties.
On the policy front, a centre-right National party favors maintaining free and open markets for labor and capitals. It proposes tax reduction and less fiscal spending than Labors. This should be positive for investments, and hence GDP growth.
On housing market, the National Party proposes a NZ$1B Housing Infrastructure Fund to "accelerate new housing in the high-demand areas where it's needed most". The new fund will "focus squarely on financing infrastructure like roads and water needed to support new housing". It also seeks to continue with the first home buyer grants.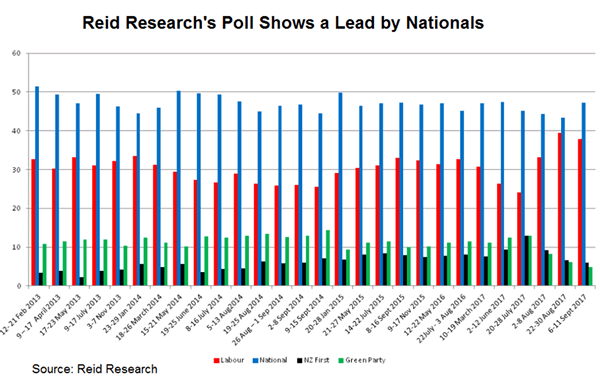 Nationals + NZ First
The populist NZ First Party had experiences of forming governments with both Nationals (1996 to 1998) and Labors (2005 to 2008). Its leader Winston Peters has noted that he would work with the largest party. The latest result from Newshub'sReid Research suggests that supports for Nationals rose to 47.3%, leading Labors' 37.6%. NZ First would likely ally with Nationals if that's the case.
NZ First is closer to Nationals on social policies but closer to Labors on economic policies. Contrary to Nationals, NZ First proposes to limit foreign investments, revise current FTA deals to "make sure they are real and are in our interests (such as protection of land and strategic assets) and "renegotiate existing poor-quality deals to increase their quality and benefit".
While emplacing the quality of immigrants, Nationals have not proposed a cut in the net immigration per year. However, NZ First favors the most restrictive immigration policy amongst all parties. It proposes to attract highly-skilled migrants by sharply cutting numbers to around 10K per annum, from the current 72K. It also proposes to adopt strict control over immigration under "family reunion" and "make sure that Kiwi workers are at the front of the job queue".
On the housing market, besides subsidies, NZ First "initiates the New Zealand Housing Plan to revamp the New Zealand housing market covering housing availability and affordability as well as rental homes supply and affordability". Indeed, NZ First's proposal to reduce net immigration would pressure housing prices.
NZ First requests to reform the Reserve Bank Act, aiming at achieving a "more exporter-friendly" RBNZ and "sensible exchange rate regime". This implies lower exchange rate and a more accommodative monetary policy.
Reduction in net immigration should weigh on economic growth over coming years. Lower housing prices suggest that the RBNZ would have more room to leave interest rates low for a long period of time, if needed. Together with the proposed central bank reform, NZ First's platform should be negative for New Zealand dollar. However, it is unlikely all of its plans would be taken in such a coalition government. Therefore, the actual impacts on exchange rate would depend on how many, and to what extent, of its policies are adopted.
Labor + Green/ Labor + Green+ NZ First
The centre-left Labor Party and the left-wing Green Party are natural coalition partners. The latest Colmar Brunton polls suggest that Labor (44%) and Green (7%) are capable of forming a government without NZ First. Poll of polls, however, indicated that it is only possible for Labor to lead with this trio. We believe the scenario of Labor + Green+ NZ First would create the most changes and uncertainties. This should pose the most downside risks to New Zealand dollar in the near term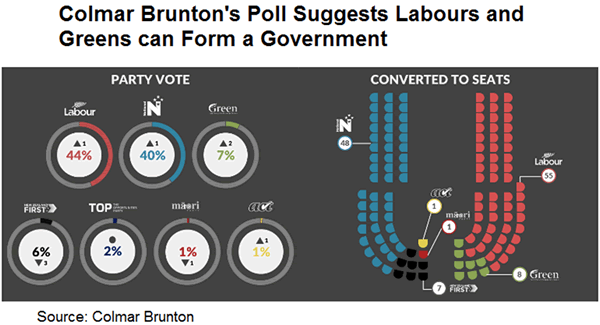 The Labor Party proposes to increase fiscal spending, mainly on health and education. On tax, it proposes capital gains tax on rental properties resold within five years (currently two), while the Green Party opts for a capital gains tax on rental properties. However, NZ First does not favor such taxes.
On the housing market, Labor's KiwiBuild program will build 100K "high quality, affordable homes over 10 years, with 50% of them in Auckland". It would also create an Affordable Housing Authority to fast-track development. We believe these do not contract the housing platforms of the other two parties.
While labors support limiting immigrants, its proposed reduction of net immigration to around 30K per year is less aggressive than NZ First's 10K per year. At an interview with Newshub, Greens also admitted that net migration would likely fall under their policy, which aims for a "sustainable net migration flow to limit effects on our environment, society and culture". The party emphasized that the policy "is not on picking a number or target" but on ensuring "good services, houses and support for people who want to make New Zealand their home". As such, a government with Labors should including a policy of immigration reduction, which is expected to shrink GDP growth in the long-term.
Same as NZ First, both Labors and Greens support reforms of the Reserve Bank Act. Back by the Greens, Labors propose a move to committee-based decision making and a dual mandate that includes employment (price stability already exists) in RBNZ's monetary policy setting. Don Brash, the RBNZ governor in 1989, warned that the change to dual mandate might "lead to some loss of confidence in the New Zealand dollar". Indeed, a dual-mandate would mark one of the biggest changes for the RBNZ. Depending how the mandate is formulated, a full employment mandate, together with the current 1-3% inflation target, would theoretically lead to looser monetary policy, or a slower pace of rate hike. As such, the scenario would result in a RBNZ reform that would skew the risk of the monetary policy to an easy side.
A government led by the National Party would be the most favorable for New Zealand dollar, as this signals less uncertainty, more open economic policy and less change in the RBNZ. A Labor-led government, with its immigration and housing market policies, as well as the proposed reform on the central bank, would weigh on New Zealand dollar. The magnitude of impacts would even increase with NZ First joining the coalition.