China Caixin PMI manufacturing rose 0.1 to 50.1 in October, matched expectations. Markit noted there was only "marginal increase in total new work amid further drop in export sales".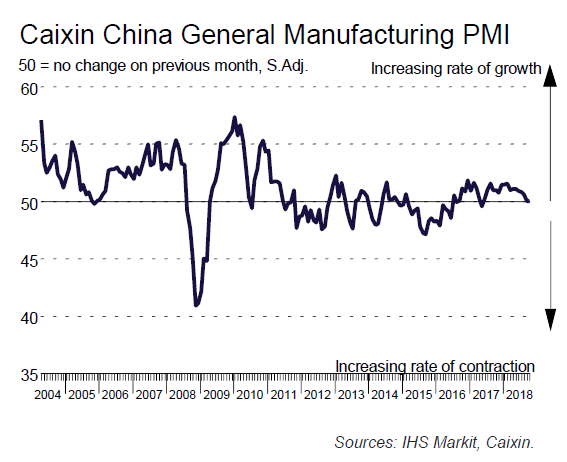 Commenting on the China General Manufacturing PMI™ data, Dr. Zhengsheng Zhong, Director of Macroeconomic Analysis at CEBM Group said:
"The Caixin China General Manufacturing PMI edged up to 50.1 in October from the month before. The subindexes for new orders and employment both edged higher, with the former remaining in expansionary territory and the latter in contractionary territory. The subindex for new export orders also recovered despite staying in negative territory, just off a more than two-year low in September.
"However, the output subindex dropped for the second straight month despite remaining in positive territory, which was in line with the recent significant drop in value-added industrial output despite the rise in manufacturing investment. This may indicate that investment was largely driven by demand related to environmental protection or technological transformation instead of capacity expansion. The subindex for future output, which reflects manufacturers' production outlook over the next 12 months, stayed in positive territory but dipped further, suggesting ongoing low business confidence.
"The subindexes for output charges and input costs both stayed in positive territory, with the former falling and the latter climbing, indicating that upward pressure on the prices of industrial products remained. The subindexes for stocks of finished items and those of purchased items both rose marginally, with the former in negative territory and the latter in positive territory, pointing to a stable demand for manufactured goods. The subindex for suppliers' delivery times fell in October following a rise in the previous month and stayed in negative territory, implying ongoing pressure on capital turnover among goods producers.
"Overall, expansion across the manufacturing sector was still weak. Production and business confidence continued to cool despite stable demand. The pressure on production costs didn't ease. China's economy has not seen obvious improvement."