Eurozone PMI manufacturing was finalized at 51.4 in December, unrevised. It's down from November's 51.8 and hit the lowest since February 2016. Markit also noted that "fall in new work signalled for third month running" and "confidence about the future hits fresh six-year low". Among the countries, Germany hit 33-month low at 51.5. Spain hit 28-month low at 51.5. France hit 27-month low at 49.7, in contraction. Italy, despite recovering to 2-month high at 49.2, remained in contraction.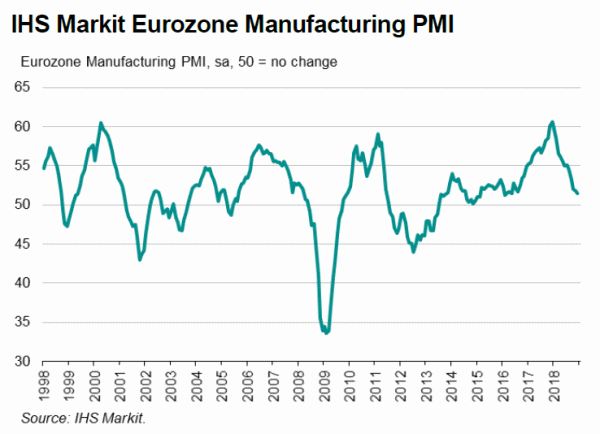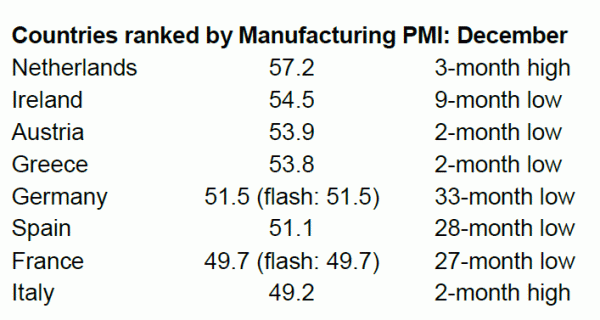 Commenting on the final Manufacturing PMI data, Chris Williamson, Chief Business Economist at IHS Markit said:
"A disappointing December rounds off a year in which a manufacturing boom faded away to near stagnation.
"The weakness of the recent survey data in fact raises the possibility that the goods producing sector could even act as a drag on the overall economy in the fourth quarter, representing a marked contrast to the growth surge seen this time last year. The last three months of 2018 saw manufacturers report the worst quarterly performance in terms of production since the second quarter of 2013.
"Worryingly, current production levels were achieved only by firms eating into backlogs of orders received in prior months and a dearth of new orders means capacity will be cut back in coming months unless demand revives. December saw a third consecutive monthly drop in new orders.
"More encouragingly, some of the recent weakness could prove temporary, being the result of protests in France and the auto sector struggling to adjust to new emissions regulations. However, the undercurrent of weak demand and growing risk aversion evident across the surveys suggests that any rebound could prove modest at best, with Brexit representing a particularly worrying unknown for the outlook."