China has started to beat the nationalist drum and shows no signs of giving in to US demands of changing its laws as part of a trade deal.
Trump has issued an executive order, banning Huawei and ZTE in the US.
Xi warns that aim to remould other civilisations would be 'a stupid idea and a disastrous act'.
More bad data in April. Recovery is postponed and more stimulus is on the way.
CNY keeps weakening, more to come.
We publish our China Weekly Letter on Thursday this week as tomorrow is a national holiday in Denmark.
Both sides defiant in what now looks like a war of attrition
It was another busy week with lots of news on China and the trade war. One big change has been the much more defiant tone from China and authorities beating the nationalist drum for the first time during the trade war. A TV clip from China's state television CCTV went viral on social media with close to 3bn hits, see SupChina , 15 May. 'China has already given its answer: talk and the door is open, fight and we'll fight you to the end,' the news anchor read with a firm look. Even for a country with 1.4bn people, close to 3bn hits is substantial. Today China Daily wrote that 'China will never do anything that will leave it humiliated again. No one should expect China to swallow the bitter fruit of damaging its core interests'.
China retaliated the US additional tariffs this week by increasing tariffs on US goods worth USD60bn. It will most likely also halt purchases of US agricultural goods and take other measures but a formal announcement will probably not be made on this. China hit back at US allegations of backtracking and instead accused the US negotiators of themselves reneging on trade talks on the matter of the amount of Chinese purchases of US goods, see FT , 14 May. China believes the US has raised the amount above what was agreed between Trump and Xi in December.
On the other side of the table, Robert Delaney from SCMP writes about an 'anti-Chinese blaze' taking place in the US. He believes that 'the fire that Trump started has grown over the past three years into a blaze that he can't contain, pushing some US lawmakers and pundits to rhetorical extremes'. While Trump has bi-partisan support for his strong stance towards China, not everyone agrees on the tools. Some Republican politicians in farm states in the Midwest are starting to complain, see FT , 14 May. Farmers themselves are also unhappy with the situation asking for a trade deal soon.
Trump added some fuel to the fire on Wednesday by signing an executive order that effectively bans Huawei and ZTE from selling equipment to US companies and consumers due to national security. China immediately expressed strong opposition to the move, see Reuters , 16 May. After a string of confrontational tweets towards China over the weekend, Trump softened his tone on Tuesday stating he was sure it would all end successfully. It was probably not a coincidence that it happened after US stock markets had taken a beating on Monday.
Finally, in a week of more US-China confrontation Xi Jinping delivered a speech at the Conference on Dialogue of Asian Civilisations, where he warned that 'if someone thinks their own race and civilisation is superior and insists on remoulding or replacing other civilisations, it would be a stupid idea and a disastrous act', see SCMP, 15 May. Xi does not name the US but the statement comes after US State Department director Kiron Skinner stirred controversy two weeks ago by describing the competition with China as 'a fight with a really different civilisation and a different ideology', adding that it was the first time the US had faced a 'great power competitor that is not Caucasian'.
Comment. The sentiment between the US and China is the worst in decades, which makes it hard to see a resolve of the trade war soon. While US Treasury Secretary Stephen Mnuchin repeated that the two sides agreed to continue talks in Beijing, there is no plan on the timing. We worry that the two sides are 'digging in' and that Trump believes he can push China into more concession with his 'maximum pressure' tactic. We struggle to see a trade deal coming until there has been another round of escalation and sell-off in the markets that creates the needed pressure for both sides to meet each other halfway. We do not expect a trade deal until H2 with the highest probability mass in late Q3.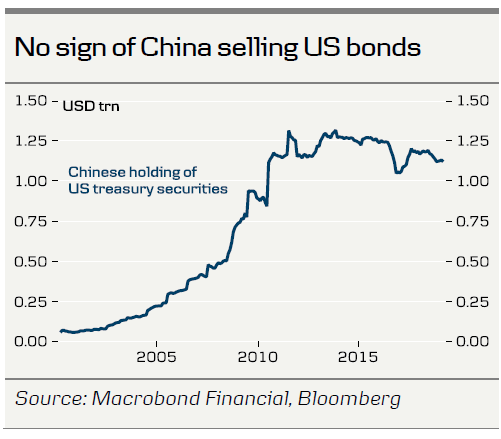 There was again speculation this week that China could use the selling of US Treasuries as a weapon in the trade war. We continue to see treasury selling as very unlikely as it could backfire and cause financial instability. We have seen a decline in treasury holdings but it is very small and fluctuations are quite normal: bonds mature and interventions in the FX market in favour of the CNY sometimes require liquidating USD-assets to buy CNY.
It is increasingly likely that we enter a phase where Chinese consumers will 'defend their country' by shying away from buying US goods and support Chinese goods instead. This would take the damage for US businesses and the stock market to another level.
More bad data and trade war paves way for more stimulus
Retail sales and industrial production also disappointed in April. Industrial production dropped back to 5.4% y/y following the spike to 8.5% y/y in March. Retail sales sank further to 7.2% y/y, another cycle low.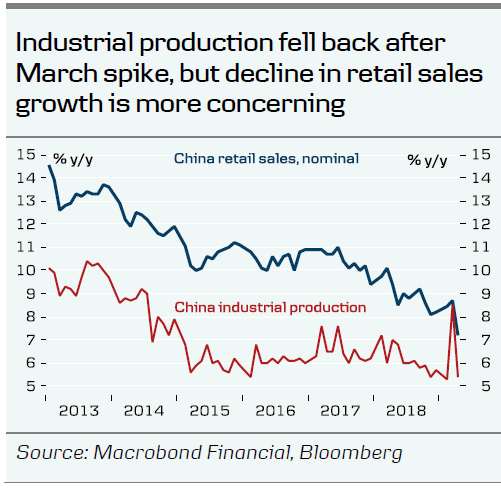 Comment. We believe that part of the April weakness is payback from a March that was too good to be true. The weak retail sales is a concern, though. The main worry now is the renewed uncertainty from the trade war. We expect China to announce new easing measures soon with the weight skewed to fiscal policy over monetary policy. We look for a cut in the Reserve Requirement Ratio and more subsidies for consumer goods like cars, home appliances etc. Infrastructure spending may be lifted as well, depending on how much the economy slows. We believe China has adequate tools to keep growth within the goal of 6-6.5% in 2019. We have revised our profile for PMI and expect more downside in coming months as well as the recovery being pushed into Q4.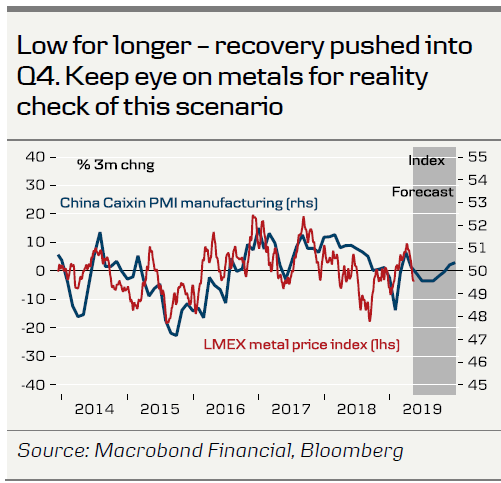 USD/CNY weakens, more to come
USD/CNY weakened further this week. Continued trade war fears and expectations of further easing of monetary policy put pressure on the renminbi.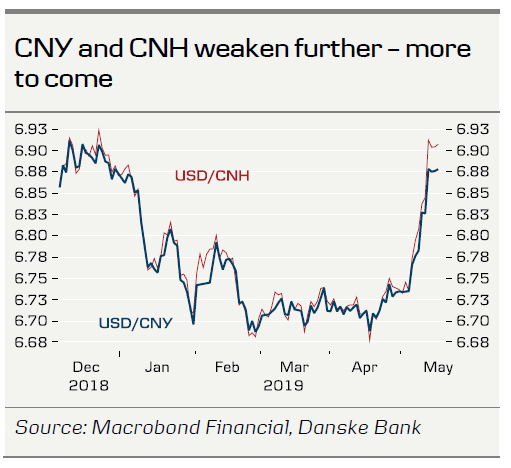 Comment. As we expect things need to get worse in order to get better, we expect the downward pressure on the CNY to continue. This week we revised our USD/CNY forecast to 7.1 in 3M. However, on the other side of a trade deal we expect it to decline again and revert to 6.8 in 12M, see also FX Forecast Update, 16 May (page 12).