Total employment: 0.5k from 45.3k (revised from 42.3k). Unemployment rate: 5.2% from 5.2% (unrevised 5.2%). Participation rate: 66.0% from 66.0% (unrevised 66.0%).
An expected soft update but a robust trend in participation is making it very hard to see unemployment getting below 5% any time soon, let alone getting down the RBA's natural rate of 4.5%. Westpac is forecasting the unemployment rate to rise from here.
The June Labour Force Survey reported a 500 gain in employment. So far this year employment has been quite robust with a three month average gain of 29.2k in June from 35.8k in May and 24.45k in April. The trend in employment remains on par with the three month average gain of 31.2k in January.
The May survey reported a strong +45.3k gain in employment (revised from 42.3k) with participation surging to a new record high of 66.0% boosting the labour force and lifting unemployment to 5.2%. As such, we had thought there was a high risk of a statistical correction this month which is why we forecast a modest 10k rise in employment. The market median was 9k.
In the year to June, employment has grown 296.3k or 2.4%. The pace of employment growth has eased back from 2.9%yr in May but it is still stronger than the 2.2%yr at the end of 2018. Our Jobs Index suggests employment should be growing around 2.4%yr currently before slowing to 2.1% through Q4.
In June, unemployment was flat at 5.2% (5.24% at two decimal places so just a whisker from 5.3% – it was 5.19% in May) and with the participation holding a record high of 66.0% (65.98% at two decimal places from 66.03% in May) the labour force grew just 700. We had expected that a statistical decline in participation would have seen the unemployment rate fall to 5.1%. Today's update is further confirmation of a robust upwards trend in participation particularly in NSW which hit a record high of 66.2% in May.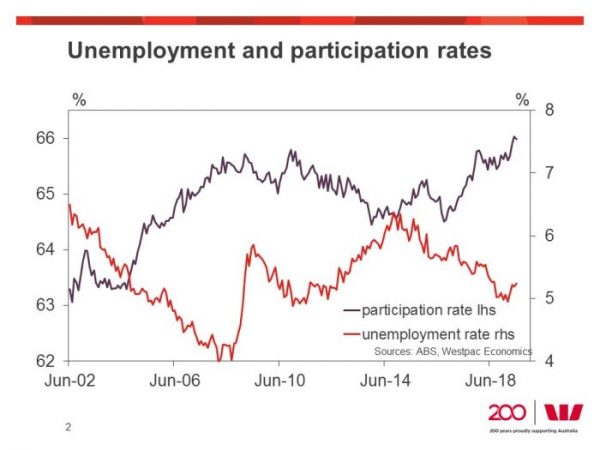 The big surprise in June was the drop in underemployment (those employed who are willing and able to work more hours) which fell 0.4ppts to 8.2%. Underemployment did not improve as much as unemployment through 2018 and had recently been trending higher compared to the unemployment rate. The correction in June has mostly reversed the surprising 0.3ppt jump in April. In Vic the underemployment rate fell 1.5ppt taking that state's underemployment rate back to 7.9%, more in line with 7.5% in NSW. We had been surprised by just how high underemployment has been in Vic over the last few months.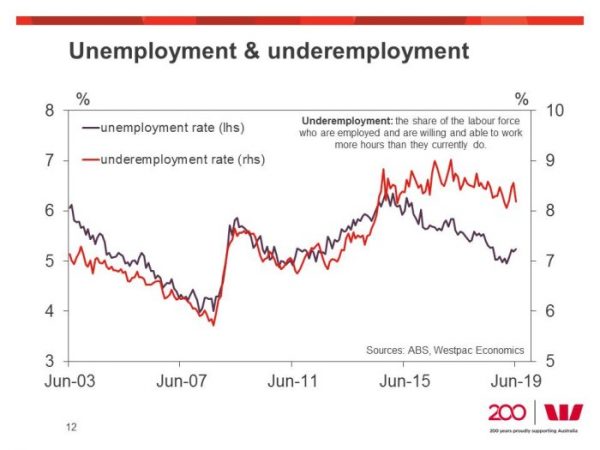 In the last year to June, most of the gains in employment have been full-time (246.5k/2.9%yr) and the share has been split evenly between males (121k/2.2%yr) and females (125.5k/4.0%yr). As females are growing from a lower base they have a much faster growth rate but it is somewhat surprising that in the year to June, part-time female employment has been broadly flat while male part-time employment has grown at a 4.2%yr pace.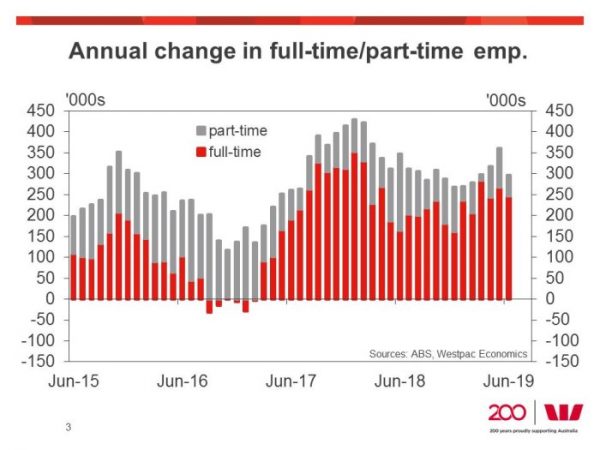 Employment growth has held together so far in 2019 even if it is on a softening trend. Unemployment and underemployment are drifting higher but the employment to population ratio has held around 62.4% since the end of 2019 highlighting that the rise in unemployment is more about rising participation than weak employment.
In the year to June, employment has grown 121.9k/3.5%yr in NSW compared to 126.5k/3.8%yr gain in Victoria. Employment grew more modestly in Queensland (27.9k/1.8%yr) and just 11k/1.7%yr in SA and 20.5k/0.9%yr in WA. In the year to April unemployment has fallen 0.1ppt in NSW to 4.6% (the national low), –0.8ppt in Victoria to 4.8% and rose 0.6ppt in Queensland at 6.5%. In which case, QLD rose to 6.5% from 6.2% in May or 5.8% in June 2018. But this trend is shifting with unemployment up 0.3ppt in the last six months in NSW, +0.6ppt in Vic with a 0.4ppt rise in Qld.