UK100 outperforming buoyed by energy stocks
Risk aversion weighing on broader markets
Sideways trend remains in tact
We're seeing a little more risk-aversion in the markets at the start of the week which is understandable considering the unfortunate events in Israel over the weekend.
The surprise attack by Hamas has fueled concerns about further instability in the Middle East which could in turn disrupt oil flows at a time when the market is already extremely tight and prices are high.
It's quite natural in these circumstances for investors to take a risk-averse approach while they gain a better understanding of what the knock-on effects will be – for example with the WSJ claiming that the attack was aided by Iran – and what that will ultimately mean for the global economy.
It comes at a time when there is already enormous uncertainty over the global economy going into 2024 with most central banks likely done with monetary tightening but some still warning of more to come.
If economies aren't already in or heading for recession, further hikes could tip them over the edge, and that has been weighing heavily on stock markets. We'll hear from a wide array of central bankers over the course of this week which will be particularly interesting in light of Friday's jobs report and ahead of this week's US CPI data.
FTSE still stuck in sideways pattern
The UK100 is outperforming its counterparts in Europe this morning, with energy stocks naturally performing well amid higher oil and gas prices.
UK100 Daily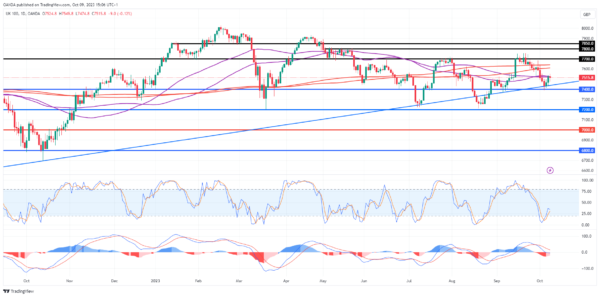 Source – OANDA on Trading View
That said, it's given up earlier gains to trade relatively flat on the day. From a technical standpoint, it found support again last week around the ascending trendline it temporarily traded below in August, with 7,400 also acting as a barrier to the downside.
But there's still no clear trend forming – up or down – with the index still seemingly trapped in a sideways pattern, largely over the last five months between 7,400 and 7,700.