EUR/CHF Renewed bearish pressures.
EUR/CHF's bullish pressures have increased sharply. Resistance given at 1.0762 (27/12/2016 high) has been broken. Anyway, the mediumterm pattern suggests us to see continued bearish pressures towards key support that can be found at 1.0623 (24/06/2016 low). Temporary surges seem the new normal for the CHF.
In the longer term, the technical structure is mixed. Resistance can be found at 1.1200 (04/02/2015 high). Yet,the ECB's QE programme is likely to cause persistent selling pressures on the euro, which should weigh on EUR/CHF. Supports can be found at 1.0184 (28/01/2015 low) and 1.0082 (27/01/2015 low).
EUR/JPY Targeting resistance at 123.31.
EUR/JPY's demand has rejuvenated . Hourly resistance at 121.34 (10/02/2017 high) has been broken. Strong resistance is given at a distance at 123.31 (27/01/2017 high). Expected to show further increase.
In the longer term, the technical structure validates a medium-term succession of lower highs and lower lows. As a result, the resistance at 149.78 (08/12/2014 high) has likely marked the end of the rise that started in July 2012. Strong support at 94.12 (24/07/2012 low) looks nonetheless far away.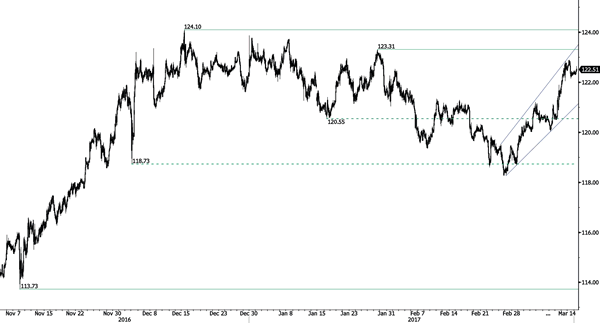 EUR/GBP Heading higher.
EUR/GBP is pushing higher. Strong resistance given at 0.8854 (15/01/2017 high) is at stake. We rule out further weakness towards supports given at 0.8450 (03/01/2016 low) and at 0.8304 (05/12/2016). Expected to further strengthen.
In the long-term, the pair has largely recovered from recent lows in 2015. The technical structure suggests a growing upside momentum. The pair is trading above from its 200 DMA. Strong resistance can be found at 0.9500 psychological level.