In Q1, New Zealand CPI growth slowed down from prior quarter's 7.2% yoy, registering a 6.7% yoy increase, falling short of the expected 7.0% yoy. The largest contributor to the annual inflation rate was the food sector, followed by housing and household utilities.
On a quarterly basis, CPI rose by 1.2% qoq in Q1, below the anticipated 1.5% qoq increase, marking the lowest result in two years. Vegetables and fruit were the primary drivers of food prices, rising by 8.6% and 11%, respectively.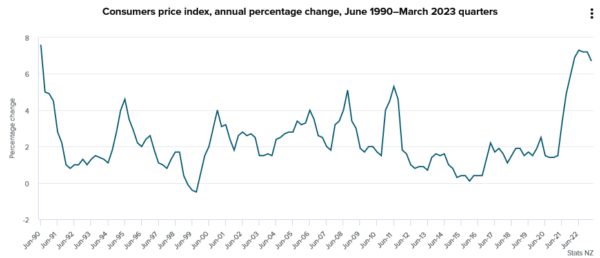 These figures came in lower than RBNZ's forecast of a 1.8% qoq and 7.3% yoy inflation. Despite the slowdown in inflation, another 25bps rate hike is still anticipated in May due to the persistently high inflation levels. However, it appears increasingly likely that the upcoming rate hike will be the last in the current cycle.