Entering into US session, Yen is now back trading as the strongest one as markets seem to have turned back to risk off-mode. More time is needed to confirm this but sentiments are once again looking shaky.
At the time of writing, FTSE is trading down -0.17%, DAX down -0.42% and CAC down -0.14%.
Turkish Lira comes back to spotlight with another -5% decline. The trigger is concerns of mores sanction from the US if American pastor Andrew Brunson is not released. The question for us is, in today's world, whether economic war is considered war. And if yes, then are tariffs and sanctions considered weapons? If the POTUS needs to go through a process, with check and balance, to hit the nuclear button, what does he need to go through to fire an "economic missile"? So far, it seems there is no mechanism to control a dictator in the US to attack another country, even a NATO ally, in the economic sense and cause massive damages and casualties. It's a big threat to the world. Anyways.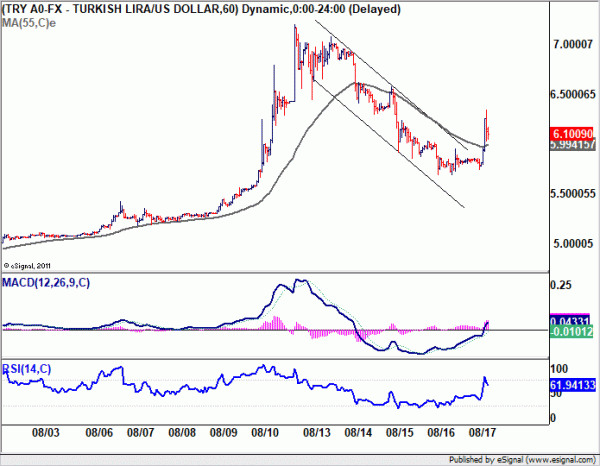 Weakness in Chinese stocks is another concerns for investors. Asian markets closed generally up today. Nikkei gained 0.35%, Hong Kong HSI rose 0.42%. However, the Shanghai SSE closed down -1.35% at 2668.97. The SSE has indeed broke July's low at 2691.02, and it's on course for 2638.30 (2016 low). There is no sign of bottoming by market force, nor there is any sign of government intervention. And more importantly, the selloff happened despite news of resumption of US-China trade talks. This highlights underlying vulnerable in the Chinese stocks markets. A break of 2638.30 could trigger some downside acceleration and spread to other parts markets, at least to Asia.