In the regional outlook report released today, IMF downgraded Asia growth forecasts in 2019 due to financial market stress and trade tensions. But it maintained that "near-term outlook for Asia remains positive, supported by steady global momentum and broadly accommodative policies". Also, "Asia continues to be the main growth engine of the world".
Overall Asian growth is projected to be at 5.6% in 2018 and 5.4% (downgraded by -0.2%) in 2019. For 2019, four of the seven advanced economies got growth projections downgraded, including Australia at 2.8% (-0.3%), Hong Kong 2.9% (-0.3%), Korea 2.6% (-0.3%), Singapore 2.5% (-0.2%). Taiwan got an upgrade to 2.4% (+0.4%), so did New Zealand at 3.0% (+0.1%). Japan's forecast was unchanged at 0.9%. Overall emerging Asian economies was downgraded to 6.3% (-0.3%) in 2019. China's growth was downgraded to 6.2% (-0.2%), India to 7.4% (-0.4%).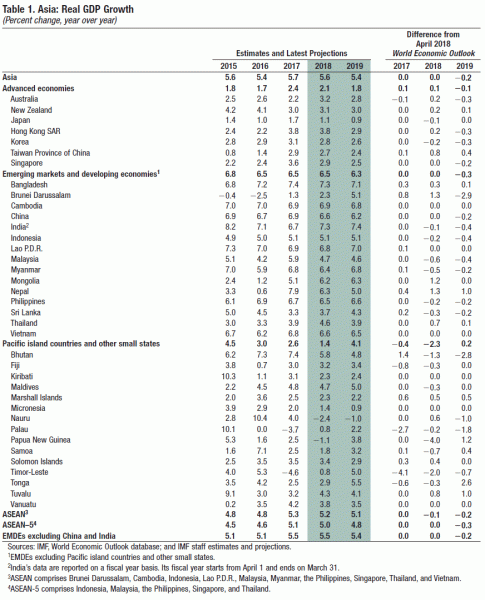 Additionally, IMF cited the following near-term downside risks to the forecasts:
Escalating trade tensions
Tighter global financial conditions
Homegrown risks
And it urged the following policy actions:
strengthen macro building blocks
liberalize trade and investment
strengthen productivity prospects
seize the opportunities of, while addressing the spillovers from, the digital economy
IMF's release and full report.