Australia employment grew 25.7k in March, much better than expectation of 15.2k. Full time employment rose 48.3k while part time jobs dropped -22.6k. Unemployment rate rose from 4.9% to 5.0%, matched expectations. Participation rate also rose from 65.6% to 65.7%.
The largest increase in employment was in Queensland (up 10.4k), followed by Victoria (up 10.0k) and South Australia (up 8.5k). The largest decrease was in New South Wales (down 2.6k) followed by Tasmania (down 1.8k). The seasonally adjusted unemployment rate increased in Queensland (up 0.7 pts to 6.1%), South Australia (up 0.2 pts to 5.9%), Tasmania (up 0.2 pts to 6.7%), Western Australia (up 0.1 pts to 6.0%) and New South Wales (up 0.1 pts to 4.3%). The only decrease in the unemployment rate was observed in Victoria (down 0.1 pts to 4.6%).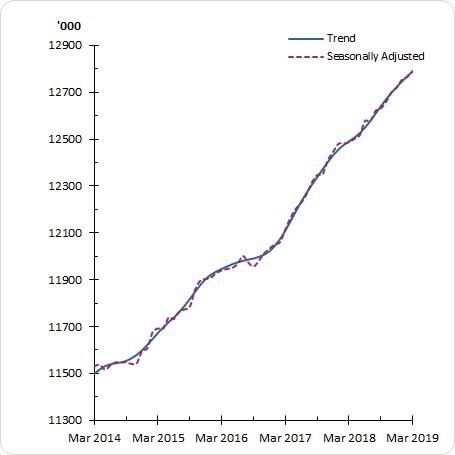 The strong gain in full time jobs underlines the robustness in the employment market. However, unemployment rate rose in all regions, only except Victoria, which is a concern. At this point, there is no imminent push for an RBA rate cut in the first up. But situation could worsen ahead that trigger the expected two cuts in the second half. The key will lie in upcoming economic projections in May.
AUD/USD's reaction to the data is rather muted. Further rise is in favor with 0.7139 minor support intact. But so far, AUD/USD bulls are continuing to hesitate to respond to positive news.