In his tweets on Sunday, Trump complained that the trade deal with China continues "too slower", as "they attempt to renegotiate". Thus, he decided to push trade war with China to full-blown level on Friday, even though Treasury Secretary Steven Mnuchin and Trade Representative Robert Lighthizer are planning to wrap up trade talks with Chinese Vice Premier Liu He in Washington this week.
Trump claimed that the "great economic results" of the US as of late can "partially" be attributed to the additional tariffs China has been paying for 10 months. The included 5% tariffs on USD 50B of high tech goods and 10% on USD 200B of other goods. Trump also claimed that "the tariffs paid to the USA have little impact of product cost, mostly borne by China".
On Friday, Trump will raise the 10% tariffs on the USD 200B of "other goods" to 25%. Additionally, currently "untaxed" USD 325B will be tariffed at rate of 25%.
….of additional goods sent to us by China remain untaxed, but will be shortly, at a rate of 25%. The Tariffs paid to the USA have had little impact on product cost, mostly borne by China. The Trade Deal with China continues, but too slowly, as they attempt to renegotiate. No!

— Donald J. Trump (@realDonaldTrump) May 5, 2019
Market reactions are overwhelmingly negative. Hong Kong HSI gaps down and is trading down -2.44% at the time of writing. China Shanghai SSE is down -3.03%, lost 3000 handle. Singapore Strait Times is d0wn -2.68%. DOW futures is down nearly -500 pts.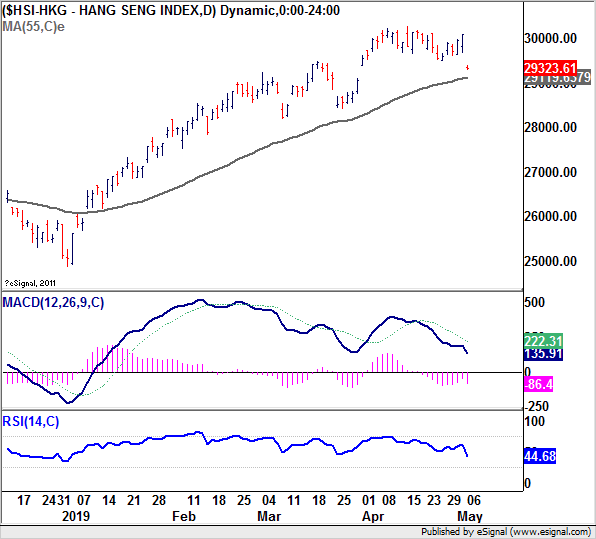 In the currency markets, Yen jumps broadly on risk aversion, followed by Swiss Franc and Dollar. Australian, New Zealand and Canadian Dollars are the weakest for now.