Australia employment grew 41.1k in July, well above expectation of 14.2k. Full-time jobs rose 34.5k while part time jobs rose 6.7k. Unemployment rate was steady at 5.2%, matched expectations. Participation rate rose 0.1% to 66.1%.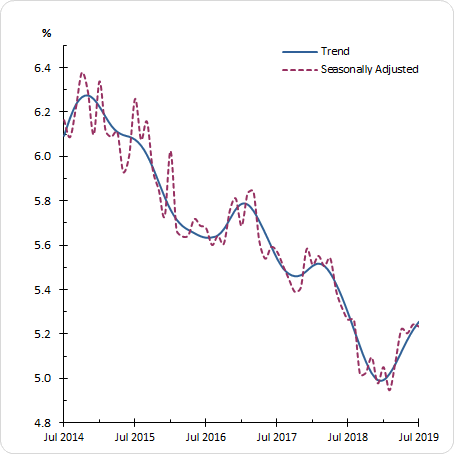 In seasonally adjusted terms, the largest increases in employment were in Queensland (up 19.9), New South Wales (up 13.0k), and Victoria (up 3.6k). The largest decrease was in Western Australia (down -4.2k). Unemployment rate increased in South Australia (up 0.9 pts to 6.9%) and Western Australia (up 0.2 pts to 5.9%), Decreases were recorded in Tasmania (down -0.8 pts to 6.0%), New South Wales (down -0.2 pts to 4.4%) and Queensland (down -0.1 pts to 6.4%), with Victoria recording no change.
The better than expected job growth should keep RBA on sideline in September. However, unemployment continues to be stuck at 5.2%. There is no sign of falling towards RBA's natural rate of 4.5%. The central bank will still need more easing ahead to push down unemployment rate so as to push up inflation to target.