Eurozone PMI Manufacturing was finalized at 46.3 in December, down from November reading of 46.9. Markit noted there were accelerated falls in both output and new orders. Also, there was prevalence of spare capacity that led to further job losses.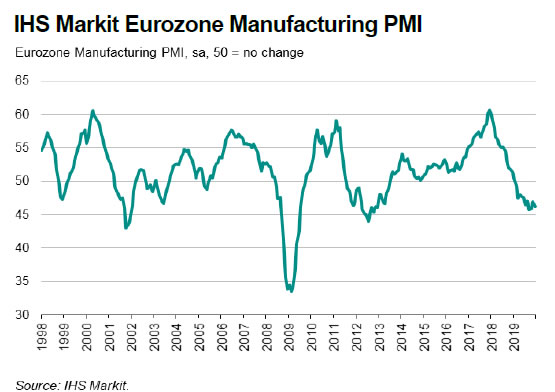 Looking at the member states, Germany PMI Manufacturing was finalized at 43.7, a two month low. Italy and and the Netherlands dropped to 80-month lows at 46.2 and 48.3 respectively. France reading dropped to 3 month-low of 50.4.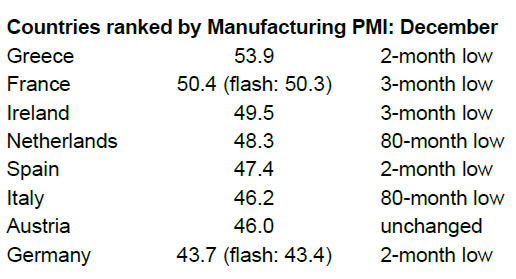 Commenting on the final Manufacturing PMI data, Chris Williamson, Chief Business Economist at IHS Markit said:
"Eurozone manufacturers reported a dire end to 2019, with output falling at a rate not exceeded since 2012. The survey is indicative of production falling by 1.5% in the fourth quarter, acting as a severe drag on the wider economy.
"Although firms grew somewhat more optimistic about the year ahead, a return to growth remains a long way off given that new order inflows continued to fall at one of the fastest rates seen over the past seven years. Firms sought to reduce inventory levels and cut headcounts as a result, focusing on slashing capacity and lowering costs. Such cost cutting was again also evident in further steep falls in demand for machinery, equipment and production-line inputs.
"Only households provided any source of improved demand in December, underscoring how the consumer sector has helped keep the economy out of recession in recent months. The ability of the wider economy to avoid sliding into a downturn in the face of such a steep manufacturing contraction remains a key challenge for the eurozone as we head into 2020."