The BOE voted unanimously to leave the Bank rate unchanged at 0.5% in December, following a historic rate hike in the prior month. Policymakers also decided to leave the asset purchase program unchanged at 435B pound. Overshooting of inflation remains a key concern with the central bank putting its blame on British pound's weakness. Policymakers noted that recent macroeconomic data have been "mixed" and raised the concern that GDP growth might slow in 4Q17. The central bank also acknowledged the progress of Brexit negotiations, suggesting that it has helped support the pound. We expect the BOE would keep its powder dry at least for the first half of next year, unless abrupt changes in the growth and inflation developments.
Weak Sterling Pushes Inflation Higher:
UK's inflation continues to surprise to the upside in November. Headline CPI rose to +3.1% y/y in November, compared expectations of and October's +3%. Core CPI steadied at +2.7%. Policymakers attributed the overshooting of inflation above the +2% target to the weak sterling. As noted in the statement, "it remains the case that inflation has been pushed above the target by the boost to import prices that resulted from the past depreciation of sterling". In the medium term, policymakers believed that inflation would "decline towards the 2% target", as it is approaching the peak now.
Policymakers noted that "the recent news in the macroeconomic data has been mixed and relatively limited". While global growth has remained strong, the economy at home might be easing. The central bank noted that GDP growth in the fourth quarter might be slightly softer than the third quarter. They, however, indicated that "the measures announced in the Autumn Budget will lessen the drag on aggregate demand stemming from fiscal consolidation, relative to previous plans".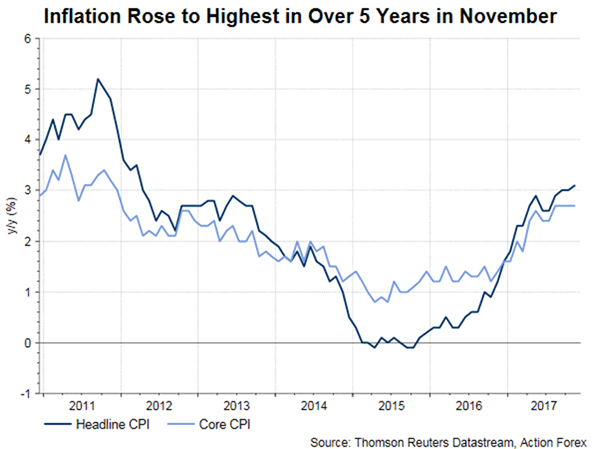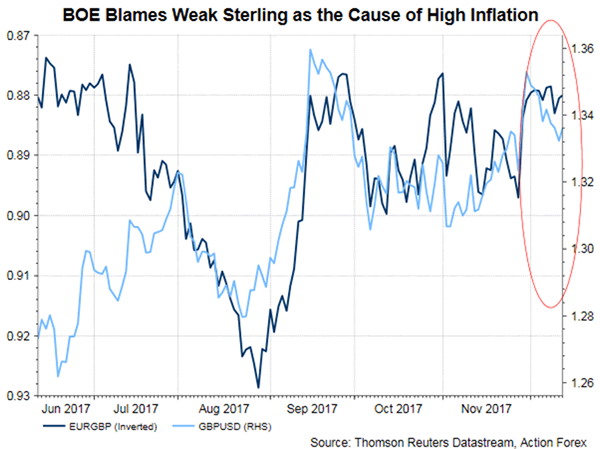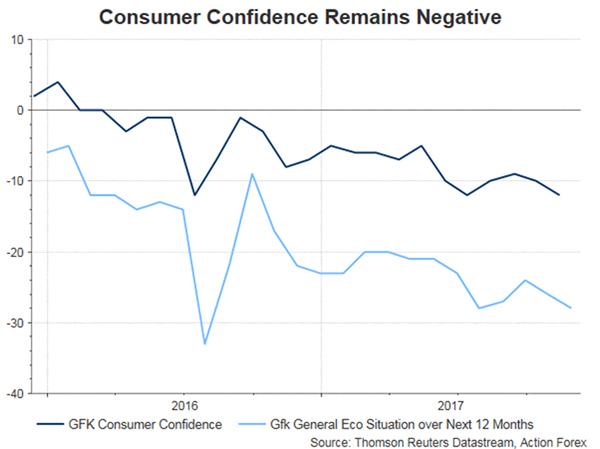 Brexit Progress
BOE also acknowledged the progress of the Brexit negotiations, suggesting the latest developments have reduced the chance of a "disorderly exit". They are also likely "to support household and corporate confidence". What the BOE did not mention was the defeat of Theresa May's government in the House of Commons as MPs supported an amendment to her Brexit bill with a 309-305 vote, curbing the powers of the government in the bill. On the EU side, the European Parliament has voted 556-62 to determine that "sufficient progress" has been made on the first phase of Brexit talks and to support a move to the next phase.