China's headline CPI moderated to +1.7% y/y in September, from +2.4% a month ago. This has missed consensus of +1.9%. The weakness was mainly driven by pork inflation which slowed to +25.5% y/y, from +52.6% in August. This contributed about 0.7 percentage point to headline CPI's moderation. Fresh vegetable prices, however, accelerated to +17.2% y/y from August's +11.7%. Food price as a whole eased to +7.9% y/y in September, from +11.2% in the prior month. Excluding food and energy, core CPI, steadied at +0.5% y/y during the month. Slowdown in headline CPI and subdued core CPI signals that China economy, while regaining traction, is yet to be on firm footing.
Upstream inflation remained weak, too. PPI deflation worsened to -2.1% y/y in September from -2% a month ago. Interestingly, PPI deflation improved to -2.8% y/y for producer goods (August:-3%). Yet, PPI for consumer goods drifted to deflation of -0.1%, from +0.6% in August. PPI for all sub-categories in consumer goods including food, clothing, daily use articles and durable consumer goods dropped. This signals that domestic demand in China is not yet out of the woods although retail sales data registered growth for the first time in August in 6 months.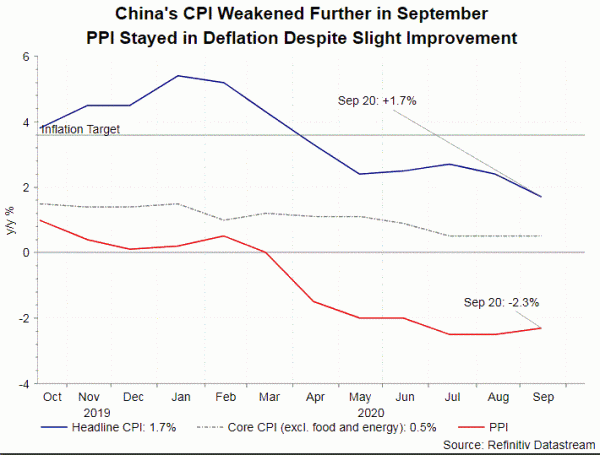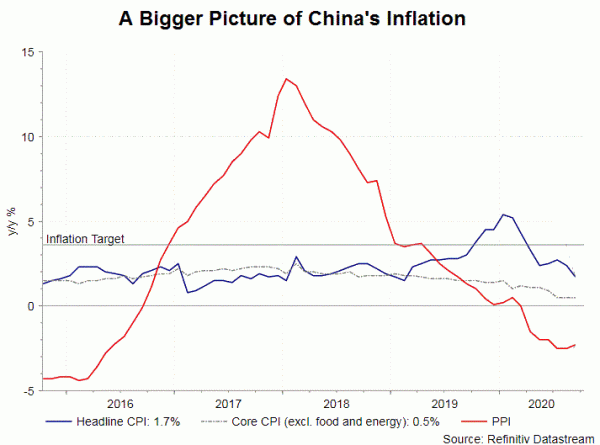 Trade Surplus Narrowed as imports Growth Surged
Released earlier last week, China's trade surplus narrowed markedly to US$37B in September, from US$ 58.9B a month ago. The market had anticipated an increase to US$59.3B. Looking into the details, exports remained strong while imports significantly expanded. Exports growth accelerated to +9.9% y/y in September from +9.5% in August. Region-wise, shipment to the US expanded +20.4% in September, improving marginally from +20.1% a month ago. Exports to EU increased +10.8%, down from +11.2% in August, while exports to Japan fell -2.7% in September, worsening from – 0.6% in the prior month Weakness in exports to EU and Japan could be attributed to the subdued growth momentum in the regions. Concerning the products, pandemic-related exports remained strong. For instance, shipment of plastic articles rose +95.9% y/y in September, up from +90.6% in August, while that of textile & fabric goods expanded +34.7% y/y, though easing from +47% in August. Both are under the personal protective equipment (PPE) category. In contrast, growth in medical equipment exports eased to+30.9% y/y in September from 38.9% in the prior month.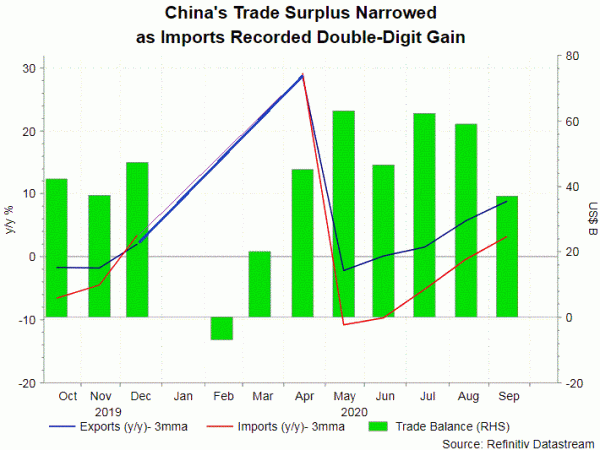 Restrictive measures in different countries in the world have also created new winners and losers. Probably driven by the rising "work from home" phenomenon, exports growth in housing-related products accelerated. For instance, shipment of furniture expanded+30.6% y/y, improving from +24% in August. In contrast, growth of garment and clothing accessory shipment steadied at +3.2% y/y .
Imports jumped +13.2% y/y, following a -2.1% decline in August. Imports of major commodity imports generally picked up during the month. For instance, copper imports accelerated to +74.1% y/y from 67.2% in August, while demand for iron ore jumped +17.1% y/y, after contracting -4.9% in August. Imports of crude oil fell further, by -14.1% y/y in September. Yet, the pace of decline eased from a month ago.
In short, China's export growth remained firm in September, thanks to the recovery in global economy. There are signs that the consumption pattern has changed a bit as a result of the pandemic. While demand for personal protective equipment remained firm, that for housing-related products also improved. Concerning imports, part of the reason of the double-digit growth was the later than usual mid-Autumn festival this year. There were more working days this September than the same month last year. Besides, tightening of US restrictions on technology exports to Huawei might have caused front-loading of imports in the first half of last month.