China's macroeconomic data showed a mixed picture in March.
Growth in industrial production (IP) eased to +6% y/y, compared with consensus of +6.9% and January- February's +7.2%. The inflation report released last week also showed that headline CPI slowed markedly to +2.1% y/y in March, from February's +2.9%. Urban fixed asset investment (FAI) grew +7.5% y/y in the first three months of the year, missing consensus of +7.7%. Expansion, slowing from +7.9% in the first two months of the year, continued to the downtrend as the authority implemented deleveraging measures.
Separately, retail sales expanded +10.1% y/y in March, better than consensus of, and January- February's, +9.7%.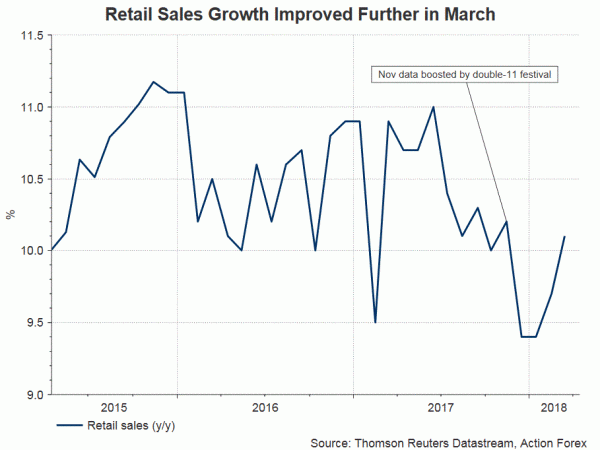 On the other hand, GDP growth steadied at +6.8% in 1Q18, in line with expectations.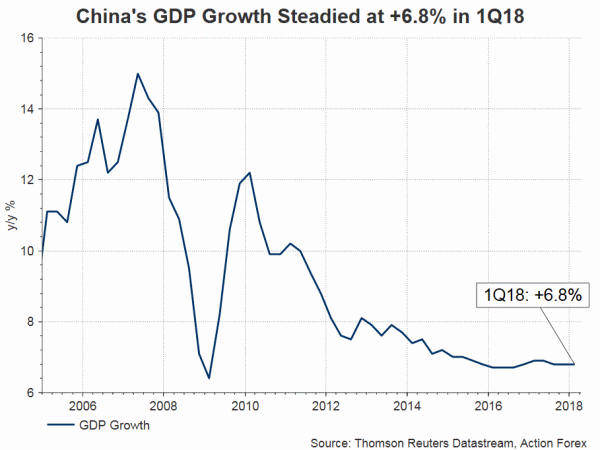 We believe seasonal factor – Lunar New Year in the second half of February, was the key reason for the mixed picture in March. More evidence in April and May are need to determine whether Chinese economic growth would slow this year.
The following explains how seasonal and temporary factors might have distorted China's IP and CPI data:
The disappointing headline IP growth was probably driven by two factors. First, production in January and February was driven by higher heating demand amidst cold weather. Meanwhile, cold weather accompanied with strong wind created less pollution so that the government eased restrictions on factory works. As such weather conditions dissipated in March, production declined as a result of less demand and more stringent measures by the government.
Lunar New Year this year occurred in the second half of February. Due to the conventional practice that Chinese factories extend the holiday after (rather than before) the public holidays, suspension of production was seen in early March.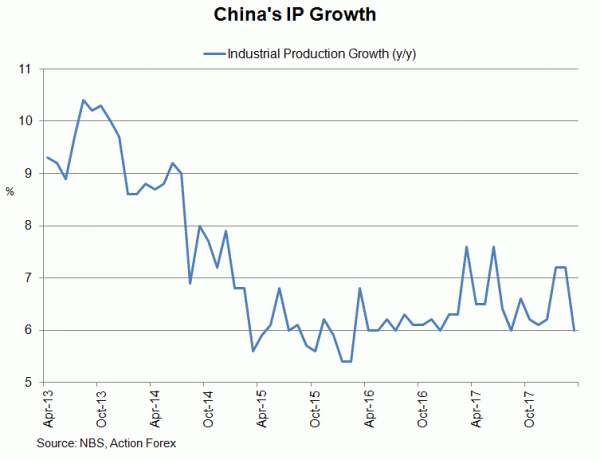 Headline CPI fell to +2.1% y/y in March, after spiking to +2.9% in the prior month. For the first quarter as a whole, CPI inflation improved to +2.2% y/y from +1.8% in 4Q17. Look at the details in March, food prices increased +2.1% y/y, easing significantly from +4.4%. The slowdown was a result of the Lunar New Year holiday effects which lifted food prices in February.
Key components in the food baskets showed moderation in price increase. For instance, vegetable prices grew +8.8% y/y in March, decelerating markedly from +17.7% in February, while inflation in eggs and aquatic products slowed to +17.6% and +5.6%, from +22.5% and +8.7% in February, respectively. Pork price deflation continued.
This might facilitate China to go ahead with tariff on US soybean exports, though. Non-food CPI eased to +2.1% y/y from 2.5% in February. Core inflation decelerated to 2% y/y from 2.5% in February. The strong reading in February was mainly a result of tourism expenses which expanded +13.5% during Lunar New Year holiday.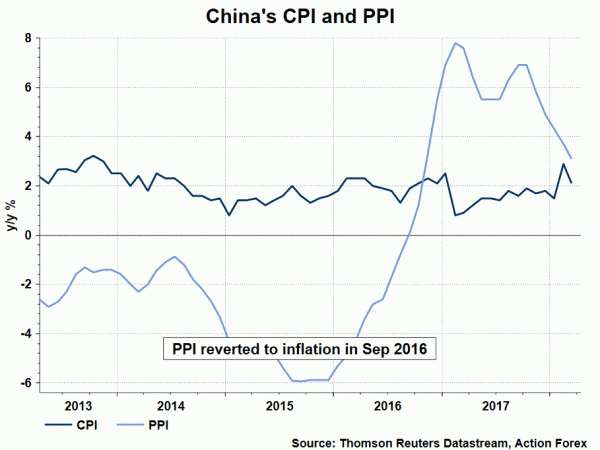 The Chinese government maintains its growth target at "about +6.5%" for 2018. While we still expect growth to meet target, we do not feel surprised if it comes in weaker than +6.9% in 2017 as the authority would keep up the efforts of deleveraging and dealing with pollution. Meanwhile, US-China trade tensions have inevitably raised uncertainty in the growth outlook.