Crude oil prices remained firm, after the rally in July. The front-month WTI crude oil contract gained +2.36% in the first week of August, after gaining +2.55% in the month of July. The Brent contract rose +2.54%, following a +5.22% rally in July. Profit-taking might be seen in coming weeks, in particular concerns over the production surplus are growing. Starting this month, OPEC+ will reduce output cut by 2 M bpd. That is, the alliance altogether targets to cut output by -7.7M bpd from August through to year-end, compared with -9.7M bpd from April to July. Latest survey suggests that OPEC+ has already produced more in July than in June. Three-month timespreads for the 2 crude oil benchmark have deepened into contango over the past week. The structure, which prompt prices are cheaper than later-date prices, indicates some concerns about oversupply in the near-term.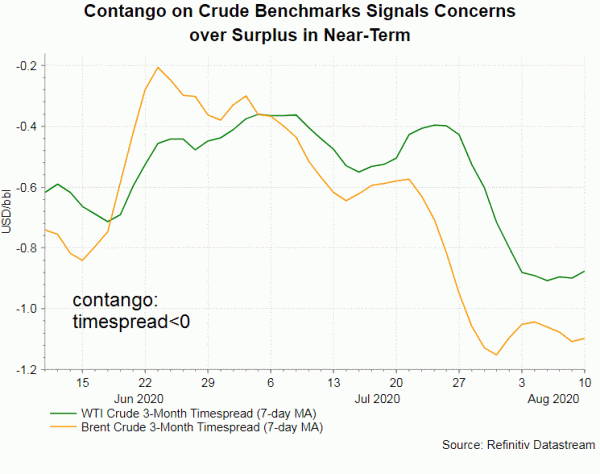 According to S&P Global Platts, OPEC+ compliance fell in July. Producers participating in the new output cut deal (effective since April 2020) reached an aggregate compliance level of 96%, down from 106% in June. The 10 OPEC members bound by quotas achieved compliance of 94%, down from 114% in June. Saudi Arabia, the largest producer in the cartel produced 8.45M bpd in July, up from 7.58M bpd in the prior month. Yet, the kingdom has continued to produce below its quota of 8.47-8.49M bpd. A number of countries continued to over-produce. For instance, Iraq's output increased to 3.77M bpd, from June's 3.7M bpd. This is 5% higher than the 3.59M bpd quota borne by the second largest OPEC producer. Iraq has recently pledged "made a commitment to cut oil production" in August and September, following conversation with Saudi regarding the compliance issue. Yet, we are skeptical over the commitment given its record of lacking compliance. Nigeria produced 1.56M bpd in July, down slightly from 1.58M bpd in the prior month. Yet, this is +10% above the country's output quota of 1.412M bpd. Nigeria defended that its offshore Agbami grade should be re-categorized as condensate, rather than crude oil.
The nine non-OPEC producers participating in the deal achieved compliance of 99% in July, up slightly from 98% in June. Russia's output climbed higher to 8.59M bpd last month, compared with June's 8.5M bpd and the quota of 8.492M bpd in June. Russia has been largely compliant to the quota since the new deal has taken effect in April. The rest produced less than their quotas last month.