On March 26, China launched its, and also the world's, first renminbi-denominated crude oil futures. The debut appeared successful with 20M barrels of oil changed hands on average in each of the first two trading days. This represents 3% of combined WTI and Brent volumes on these days. The futures attracted both international commodity traders as well as China's state-owned oil companies. While we agree that further liberalization of China's financial markets would promote the use of its currency – renminbi, the lack of transparency of the currency's pricing mechanism and the unpredictable government policies suggest that the road to renminibi internationalization remains a protracted one.
Response to Rising Hedging Needs
As the world's largest oil importers, Chinese oil companies find it increasingly necessary to better manage their price exposure. As such, an instrument is needed for hedging against risks of oil price volatility. Chinese crude oil imports mainly concentrated on medium and heavy sour crudes, while the existing benchmarks, WTI (39.6 API gravity; 0.24% sulfur) and Brent (38.06 API gravity; 0.37% sulfur), are based on light and sweet crude oils. The mismatch has raised the need for a new instrument which is based on a basket of medium and heavy crudes. The newly launched contract, focusing on oil with higher sulfur content, is based on 7 deliverable crude grades (30-33 API gravity; 1.6-2.8% sulfur) from the Middle East (Dubai, Upper Zakum, Oman, Qatar Marine, Masila and Basra Light) and China(Shengli)
Moreover, the renminbi-denominated nature allows Chinese firm to manage their risks more effectively.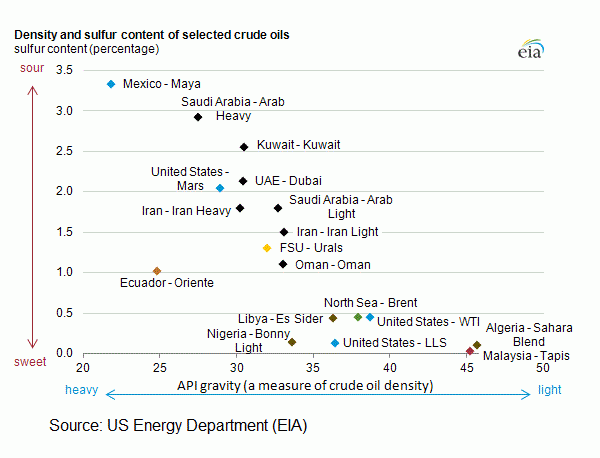 Provision of More Trading Vehicles to Domestic Investors
As Shanghai Futures Exchange seeks to increase variety of trading vehicles, the new crude futures should be appealing. Domestic investors have until now lacked opportunity to trade oil. Renminibi is neither freely convertible nor freely float. Meanwhile, the government has imposed various capital control measures so as to prevent excessive selloff of its currency. Such monetary policy environment has deprived domestic investors' overseas investment opportunities. Let alone other costs and only consider the current trading price and lot size, the minimum investment for WTI and Brent crude futures is US$ 64 000 and US$ 68 000, respectively. Chinese investors would find it impossible to enter the markets as they are only allowed to transfer US$50 000 a year per person. The huge pool of domestic speculators is definitely lured to the first crude derivative in China.
Opening up its commodity markets, the government allows foreign investors to trade the futures directly from offshore, using US dollar or offshore renminbi (CNH) as collateral. Income taxes for foreign investor are also waived for the first three years. By allowing foreign investors to tap China's commodity market for the first time, the government is encouraging the use of its currency. However, we do not agree with those who have regarded the move as a further step to renminbi liberation and for the currency to challenge US dollar's status as the world's reserve currency,
Despite the launch of the new futures, foreign access to Chinese financial assets remained limited. Moreover, Collateral made by foreign investors is kept in designated accounts, which, together with any capital gain, would be transferred back to foreign accounts. Another problem is renminbi. Although the government has implemented a number of reforms, currency is still neither freely convertible nor free-float. The pricing of the currency has lacked transparency as government policies are erratic and unpredictable. For instance, the mysterious "counter-cyclical factor" introduced in May 2017 for renminbi fixing was abruptly suspended on January 2018. Investors find it very difficult to gauge the movement of the currency. Despite China's status as the world's largest exporter and second largest importer, we doubt if any country would prefer currency of this nature to dominate its foreign exchange reserve.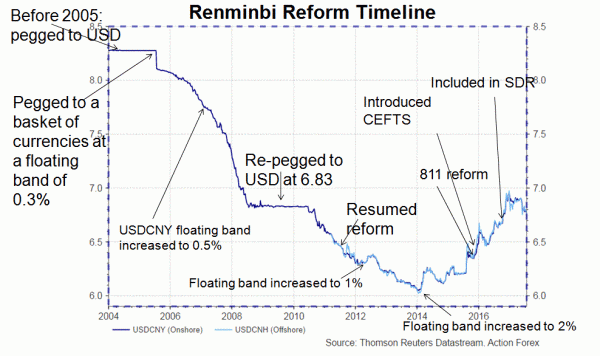 References:
http://www.shfe.com.cn/content/2018-yyQH-en/index.html
https://www.theice.com/products/219/Brent-Crude-Futures
http://www.cmegroup.com/trading/energy/crude-oil/light-sweet-crude_contract_specifications.html