Matteo Salvini, the Deputy Prime Minister of Italy, announced last Friday that he would submit a no-confidence motion against Prime Minister Giuseppe Conte. This marks the collapse of the M5S- League coalition government. Two possibilities arise after Salvini's move: snap election or a technocrat government. What makes the situation more complicated is that Italy is expected to submit the 2020 budget draft by October 15.
The Parliament might vote on the no-confidence motion before August 20. It is likely that the motion would be passed, calling for an end of the coalition government. Two possibilities would arise after passage of the motion. First, President of the Republic Sergio Matterella could immediately dissolve the Parliament, triggering snap elections within 45 and 70 days. In this case, incumbent Prime Minister Giuseppe Conte would remain until a new government in formed. Second, a technocrat government would be formed in order to perform institutional duties. The key purpose of such government is to pass the 2020 budget. This would prevent the European Commission from restarting the EDP against Italy. In this case, new elections would be held in early 2020.
The situation remains fluid and it is challenging to predict which scenario prevails at the moment. The League should prefer the first scenario – snap elections- as its support has increased to 38% from 17% in the election last year. Since the market expects a new government would be a coalition between the League and Brother of Italy, the rhetoric of the League in the Budget plan is close watched. On the contrary, M5S and PD, with support of around 18% and 22% respectively, would likely prefer the second scenario, delaying snap elections until next year.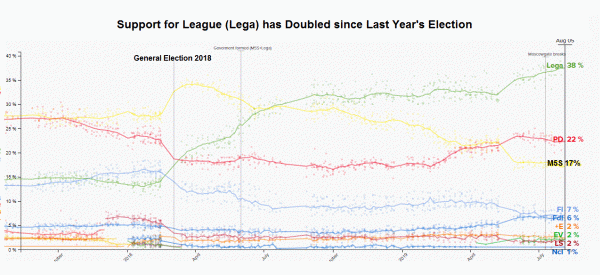 Financial markets will be volatile in the near-term. Italy-Germany yield spread widened to a 2.41% last Friday, the highest since July 1. The likelihood for further widening is high. Decisions by credit agencies also matter. Although Fitch affirmed Italy's credit rating at BBB (two notches above junk grade) last week, the negative outlook suggests that a downgrade in the coming months is still possible. Fitch noted in the accompanying statement that the current rating and outlook "reflect the extremely high level of general government debt, very low trend GDP growth, policy risk and uncertainty arising from the current political dynamic and associated downside risks to our public debt projections". It added that "the relatively high net external debt and still-weak banking sector asset quality also weighs on the rating". Moody's review will take place on September 6. The agency has put Italy's credit rating at Baa3 (one notch above junk) with a stable outlook since October 2018.