USD/CHF Consolidating.
USD/CHF has paused after sharp exit from uptrend channel. Hourly support is given at 0.9862 (31/01/2017 low) has been broken. Key resistance can be found at a distance at 1.0344 (15/12/2016 high). Expected to consolidate.
In the long-term, the pair is still trading in range since 2011 despite some turmoil when the SNB unpegged the CHF. Key support can be found 0.8986 (30/01/2015 low). The technical structure favours nonetheless a long term bullish bias since the unpeg in January 2015.
USD/CAD Slight bounce.
USD/CAD is bouncing. However a break of resistance area around 1.3400 is needed to invalidate the current short term bearish technical structure. The road seems still wideopen for larger decline. Key support is given at 1.2969 (31/01/2017 low).
In the longer term, there is a golden cross with the 50 dma crossing the 200 dma indicating further upside pressures. Strong resistance is given at 1.4690 (22/01/2016 high). Long-term support can be found at 1.2461 (16/03/2015 low).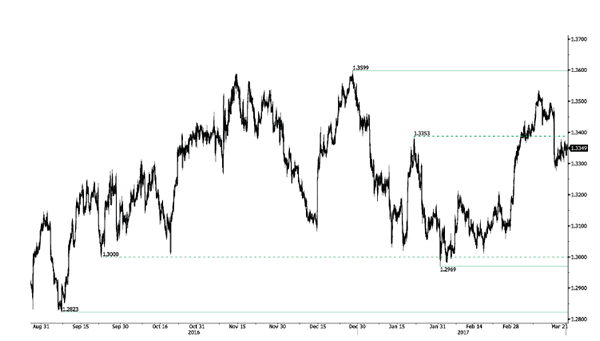 AUD/USD Monitor the key resistance at 0.7778.
AUD/USD has successfully tested the support at 0.7497. A break of the key resistance at 0.7778 (08/11/2016 high) is needed to open the way for further strength. Hourly supports can be found at 0.7664 (16/03/2017 low).
In the long-term, we are waiting for further signs that the current downtrend is ending. Key supports stand at 0.6009 (31/10/2008 low) . A break of the key resistance at 0.8295 (15/01/2015 high) is needed to invalidate our long-term bearish view.