GDP growth eased to +6.2% y/y in 2Q19, down from +6.4% in the prior quarter. This marks the weakest growth in 27 years. On a q/q saar basis, GDP growth moderated sharply to +5.6% from first quarter's +6.9%. For the first half of the year, the economy expanded +6.3%.
Growth in the second quarter was dragged by net exports growth as well as softer domestic consumption. As more negative impacts of US-China trade war surface, growth in the second half of the year should decelerate further. We expect year- over- year growth in the final quarter to falter below +6%.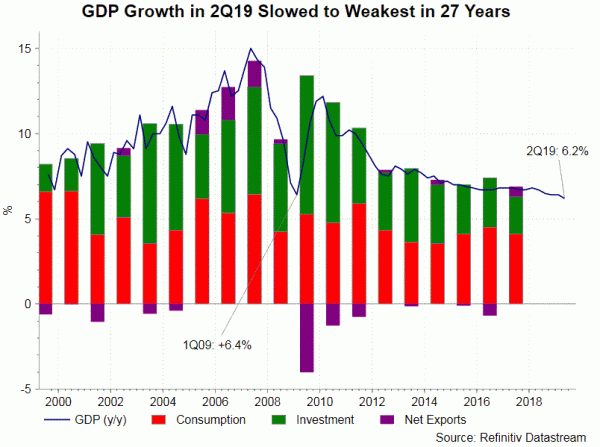 Concerning major activity data in June, industrial production grew +6.3% y/y, picking up from +5% in May. The improvement came from a low base and a narrowed contraction in metal smelting.
Retail sales jumped +9.8% y/y in June , after gaining +8.6% a month ago. The strong growth, probably coming from front-loaded auto sales, would likely dissipate in coming months.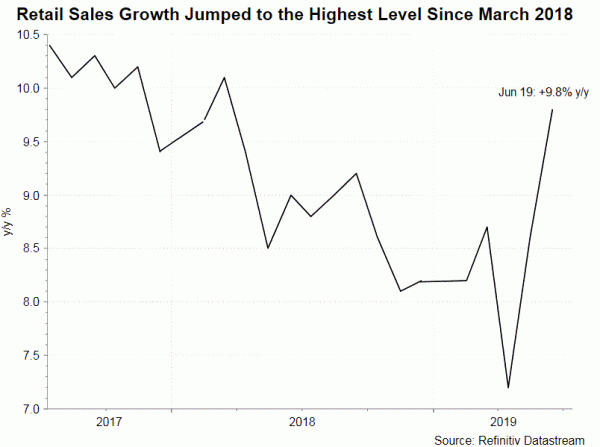 Urban fixed asset investment increased +5.8% in the first half of the year, compared with +5.6% in the first 5 months. Looking into details, government-driven infrastructure investment expanded +4.1%, up slightly from +4% in the first 5 months of the year. The growth could continue as the government implement fiscal stimulus to boost the economy. Deceleration in real estate investment growth would persist as the government tightened developer financing and mortgage loans. Moreover, downside pressure on manufacturing investment is expected to remain.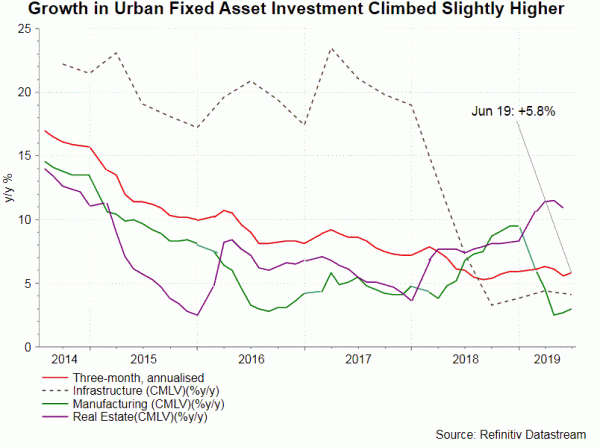 As we mentioned in the previous report, China's monetary policy would stay accommodative. We believe of a rate cut has increased, given Fed funds rate cuts later this year are a done deal. PBOC would continue to cut RRR. As Premier Li Keqiang noted recently, the government would cut the RRR to help reduce funding costs for SMEs. Meanwhile, Sun Guofeng, director of the central bank's Monetary Policy, suggested last Friday that the central bank would, in addition to the traditional monetary measures,  continue to deepen market-oriented interest rate reforms to lower the loan interest rates especially for SMEs.