US and China are still on track for a 'phase one' trade deal in mid-November.
US vice president Mike Pence delivers hawkish speech on China in a talk that also seemed calibrated not to ruin trade negotiations.
China climbs further in the World Bank's Doing Business 2020 report surpassing countries such as France and the Netherlands on the ease of doing business.
Work towards 'phase one' deal continues
The trade talks between the US and China seem to progress with fairly positive signals coming out of both Washington and Beijing. According to Bloomberg , China is ready to buy USD20bn of US agricultural products in the first year and over time could increase the amount to USD40-50bn if the US removes all tariffs in a 'phase two deal' later. Wall Street Journal broke a story over the weekend that US President Donald Trump's economic adviser had arranged a meeting in the White House with outside experts who warned Trump that further escalation would hurt the US economy and his chances of re-election. Data on US capital goods orders this week added support to this view as they pointed to the first decline in US investments since Trump took over the oval office (chart 1).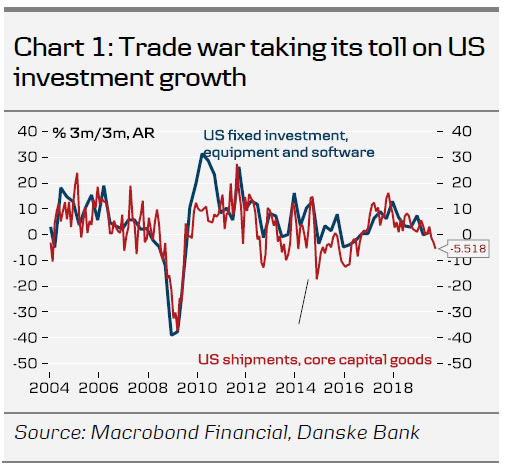 Trump's hawkish trade adviser Peter Navarro said this week a 'phase one' deal would include intellectual property rights . Navarro himself was dealt a blow last week as his book 'Death by China' was attached with a fiction warning by the publisher after it was revealed one of the persons quoted in the book was not real but a pseudonym for Navarro.
In his second China-focused speech in a year vice president Mike Pence repeated his tough rhetoric on China . In the speech Pence named China a strategic and economic rival and among other things said China was curtailing liberty and rights in Hong Kong. However, the speech also seemed calibrated to not antagonize China too much during the ongoing trade talks as it was balanced with statements that the US "is not seeking to contain China" and that the US wants "a constructive relationship with China's leaders".
Comment: We still look for a 'phase 1' deal to be signed in mid-November by US President Donald Trump and Chinese President Xi Jinping. It should pave the way for 'phase 2' negotiations which will have all the difficult pieces left to deal with and is likely to continue into 2020. However, with the US economy weakening Trump may aim to strike a deal next year to revive the recovery ahead of the November 2020 election.
The speech by Mike Pence was originally planned for 4 June but was postponed in order not to complicate trade talks. While keeping a tough language, the speech seemed more balanced compared to his speech in October last year , which left the impression of a new cold war declaration. Several media have reported that White House officials have discussed for some time how tough the speech should be, given the ongoing trade talks. China will almost certainly react strongly to parts of the speech, not least the words on Hong Kong. But China is also likely to welcome the call for a constructive relationship. In our view, though, China is preparing for a long-term challenging relationship and is working to becoming more independent of the US, not least technologically.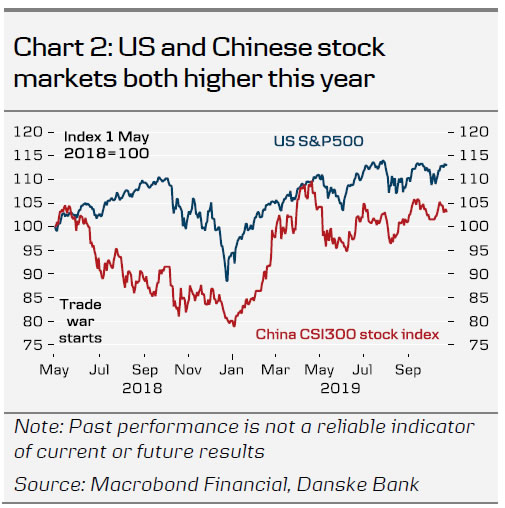 Monetary policy on hold for now, USD/CNY lower
Contrary to expectations of another small cut, China kept the new benchmark policy rate, the Loan Prime Rate (LPR), unchanged this month at 4.20%. It follows two months of small reductions. The Loan Prime Rate is based on inputs from a range of banks on the rate at which they lend to prime borrowers. It thus works as a floor for bank lending rates. Home loan rates are now also based on the LPR rate.
USD/CNY has moved lower lately, which partly reflects the progress in trade talks as well as an overall weakening of the USD over the past weeks.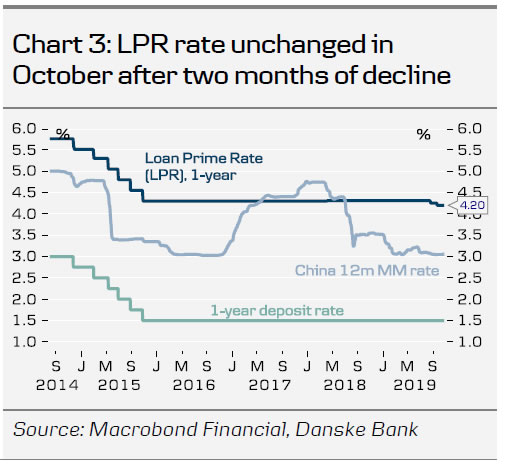 Comment: China may be taking a step back on monetary policy assessing whether the progress in trade talks and signs of economic stabilisation stays on track. If so, it may not be necessary to ease further. China has also signalled that fiscal measures positive for the long term and more targeted credit easing are the preferred tools. We look for policy stimulus to be broadly on hold from here barring any further escalation in the trade war and renewed economic weakness. Smaller adjustments in policy may still come, though.
We have adjusted our USD/CNY forecast slightly and now look for the cross to head for 7.00 in 12M rather than 7.20 on the back of slightly more trade optimism, see FX Forecast Update, 22 October 2019, page 12.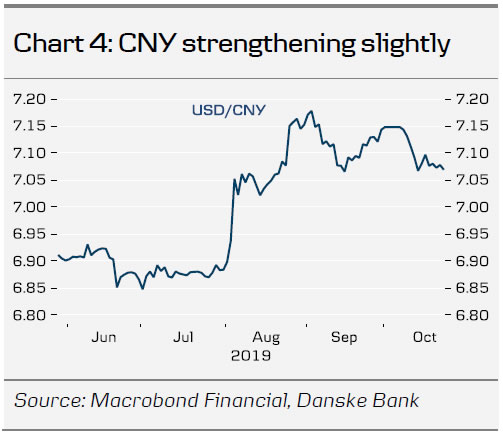 China climbs further in 'Doing Business' index by World Bank
On Thursday, the World Bank published its 'Doing Business 2020' ranking that measures the ease of doing business in various countries on a range of parameters. China can celebrate another jump higher this year from 46 to 31 out of 190 countries. With the move up the ladder this year, China has surpassed countries such as France and the Netherlands and is only two places from Japan at the 29th place. According to the World Bank China director "China has undertaken substantial efforts to improve the domestic business climate for small and medium-size enterprises, maintaining an active pace of reforms".
China Daily on Thursday reported that more new regulation was signed on Wednesday that aims to "further optimize its business environment amid ongoing efforts to continue opening up its economy, spur market vitality and foster high-quality development".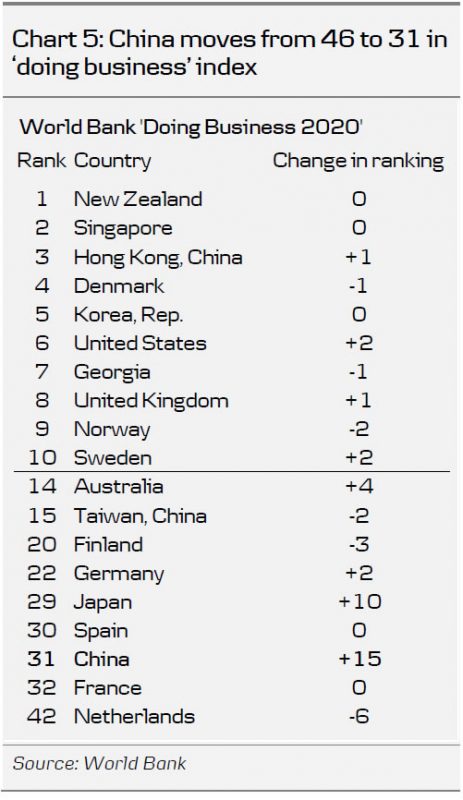 Comment: Contrary to popular belief, China is reforming to improve the business environment in order to spur innovation and entrepreneurship and create a positive investment environment. While reforms have been slow in other areas such as state owned enterprise reforms, the leadership has been focused on creating a better business environment. On top of changes in regulation, China has cut taxes and works on improving access to finance, a challenge for many small and medium sized private companies – especially following the crackdown on shadow finance. We expect China to continue reforms in the 'doing business' areas as part of their innovation-driven development model.
Other China news this week:
China's fourth plenum of the Communist Party is scheduled for next week. The focus will be on upholding and improving the system of socialism with Chinese characteristics.
Tesla kicks off trial production in new Shanghai factory and surprises with Q3 profit.
Huawei launches its new foldable phone in China which comes with a price tag of USD2400.