Australia employment grew 28.9k to 12.98m in December, much better than expectation of 14.0k. Full-time jobs dropped slightly by -0.3k to 8.83m. Part-time jobs rose 29.2k to 4.15m. Unemployment rate dropped -0.1% to 5.1%, better than expectation of 5.2%. Participation rate remained steady at 66.0%.
ABS Chief Economist Bruce Hockman said: "Trend unemployment rate decreased slightly to 5.1 per cent, its lowest level since April 2019. While there has been stronger growth in part-time employment over the past year, the underemployment rate is still where it was last December, at 8.3 per cent."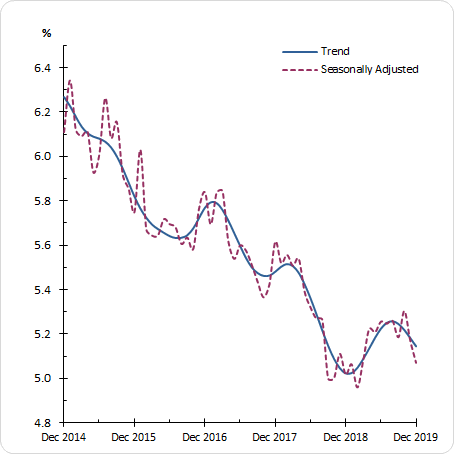 Australian Dollar recovers as markets push back expectation of February RBA rate cut, due to the upside surprises in job data. ANZ said the data reinforce RBA's view that the economy appears to have reached a "gentle turning point". it will be difficult to see RBA easing in February even though rate cuts are more likely than not over the course of 2020. CBA said RBA would now likely cut by 25bps to 0.50% in April, instead of February.