Eurozone PMI services was finalized at 52.8 in April, up from March reading of 53.3. Eurozone PMI composite was revised up to 51.5, down from March reading at 51.6. Looking at the members states, Italy PMI composite dropped to 49.5, 3-month low. Improvements were seen in France and Germany, as PMI composites hit 50.1 and 52.2 respectively, both at 3 month high.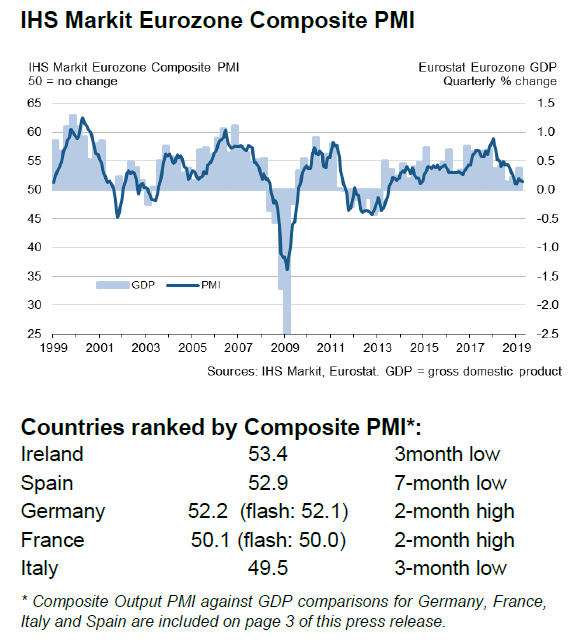 Chris Williamson, Chief Business Economist at IHS Markit said:
"The final eurozone PMI for April came in slightly higher than the flash estimate, though still indicated that the economy lost a little momentum at the start of the second quarter and that growth remains worryingly lacklustre. The survey is indicative of the economy growing at a quarterly rate of approximately 0.2%, but manufacturing remained mired in its steepest downturn since 2013 and service sector growth slipped lower.
"In a month in which oil prices continued to rise, it was no surprise to see input cost inflation accelerating for the first time in six months. It is therefore disappointing to see average selling prices for goods and services showing the smallest monthly rise since August 2017, strongly hinting at weakened pricing power and lower core inflationary pressures as firms were often unable to pass higher costs on to customers.
"Weak demand remains the key to the lack of inflationary pressures. Although inflows of new orders for goods and services picked up further from the low-point reached back in January, the increase was among the smallest seen since late 2014. Worryingly, growth of output continues to run ahead of that of new orders, meaning even the modest current growth of business activity is only being sustained by firms eating into orders placed in prior months. Demand clearly needs to improve further to generate faster economic growth and give firms greater pricing power."