Eurozone PMI Manufacturing was finalized at 39.4 in May, up from April's 33.4. Markit noted that while there was a rebound in the headline PMI, there were sharp falls in new orders and output recorded. Also, job losses mount as manufacturers remained downbeat about outlook. Among the member states, all readings stayed below 50, with Germany at 36.6, Spain at 38.3, Austria at 40.4, France at 40.6, Greece at 41.1, Italy at 45.4.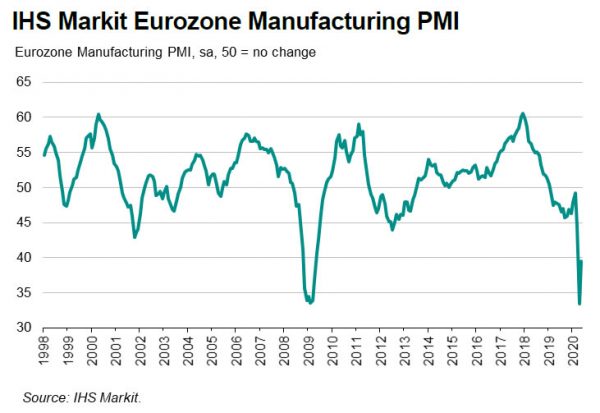 Chris Williamson, Chief Business Economist at IHS Markit said: "The manufacturing downturn looks to have bottomed-out in April, with production falling at a markedly slower rate in May. The improvement in part merely reflects the comparison against a shockingly steep fall in April, but more encouragingly was also linked to companies restarting work as virus lockdowns were eased. The further lifting of COVID-19 restrictions in coming months should provide a further boost to manufacturers.
"While we are still set to see unprecedented falls in industrial production and GDP in the second quarter, the survey brings hope that the goodsproducing sector may at least see some stabilisation – and even potentially a return to growth – in the third quarter. Whether growth can achieve any serious momentum remains highly uncertain, however, as demand – both domestically and in export markets – looks set to remain subdued by social distancing measures, high unemployment and falling corporate profits for some time to come.