There is a lot of optimism and feelings of joy among investors today. Thanks to the Chinese economic data which has painted a very optimistic picture. The Chinese factory PMI number moved back in the expansion territory with the reading of 50.5 from its previous number of 49.2. This was the largest gain since 2012. Perhaps, trade war pessimism has finally started to fade away.
This wasn't the only good news out of China which is pushing the markets higher in Europe today. The Caixin manufacturing index also posted a strong reading of 50.8, well ahead of the forecast, marking the strongest reading since July last year. It is this optimism that we are seeing a strong start for the equity markets today which comes on the heels of strong Q1 performance. To put things in perspective, the S&P500 index experienced its best quarter since 2009, up whopping over 13 percent.
Year to date, the S&P 500 index is up 13.07%, the Nasdaq 16.49% and the Dow Jones has gained 11.51%. In Europe, the Stoxx600 index has climbed 12.27%, the Dax 9.16% and the CAC40 index is leading the gains, up nearly 13.10%. The strength of the risk off sentiment can be witnessed by looking at the performance of VIX index which is down -46% and the VSTOXX index lost nearly -35%.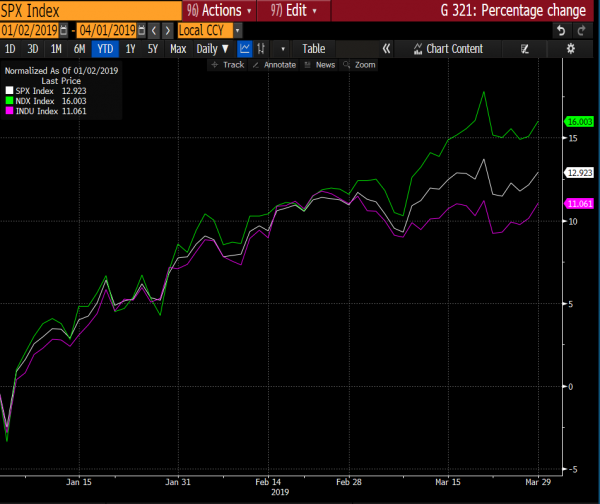 In terms of currencies, it is mainly about two currencies today: Turkish Lira and the British pound. Over in the UK, Theresa May's plan was shot down last week however, the prime minister is still weighing to bring the vote back in the parliament for the fourth time after three consecutive humiliating losses. The disarray in her own party over her choice of the Brexit deal is still substantial and the reality is that she is willing to risk everything, including the future of the UK, to get her version of Brexit deal approved. Less than two weeks are remaining before the UK crashes out of the EU without any deal but it seems like the politics in the UK is worse than the third world countries.
As for the Turkish Lira, Tayyip Erdogan has secured another important victory in the local elections but his control over two major cities Istanbul and Ankara has somewhat weakened. This factor drove the Turkish Lira lower against the basket of G10 currencies. At the time of writing this, the Turkish/dollar pair was trading at 5.62. Nonetheless, we are still well below the yearly high of 7 Lira per Dollar. Erdogan's victory represents more stability for the currency. Moving forward, his biggest challenges would be to drive growth in the country and navigate the economic ship away from the shores of economic recession.