UK PMI services rose to 51.3 in February, up from 50.1 and beat expectation of 50.0. Markit noted "modest upturn in service sector output". But there was "slight fall in new work" and "staffing levels drop to greatest extent for over seven years".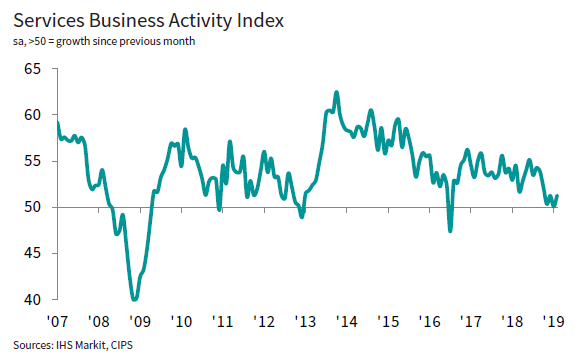 Chris Williamson, Chief Business Economist at IHS Markit, which compiles the survey:
"The latest PMI surveys indicate that the UK economy remained close to stagnation in February, despite a flurry of activity in many sectors ahead of the UK's scheduled departure from the EU. The data suggest the economy is on course to grow by just 0.1% in the first quarter.
"Worse may be to come when pre-Brexit preparatory activities move into reverse. Many Brexit-related headwinds and uncertainties also look set to linger in coming months even in the case of PM May's deal going through. Global economic growth meanwhile remains sluggish, adding an increasingly gloomy backdrop to the UK's current problems.
"Business optimism about the year ahead has consequently sunk to the lowest ever recorded by the survey with the exceptions of the height of the global financial crisis and July 2016. Brexit concerns dominate the list of reasons cited by companies for deteriorating business performance by a wide margin.
"Employment across services, manufacturing and construction is meanwhile now falling at a rate not exceeded for nine years as companies cut costs and await clarity on the outlook, highlighting the rising damage to the economy from intensifying uncertainty."