US PMI manufacturing dropped to 55.4 in November, down fro 55.7, missed expectation of 55.8. PMI services dropped to 54.4, down from 54.8, missed expectation of 55.0. PMI composite dropped to 54.4, down from 54.9.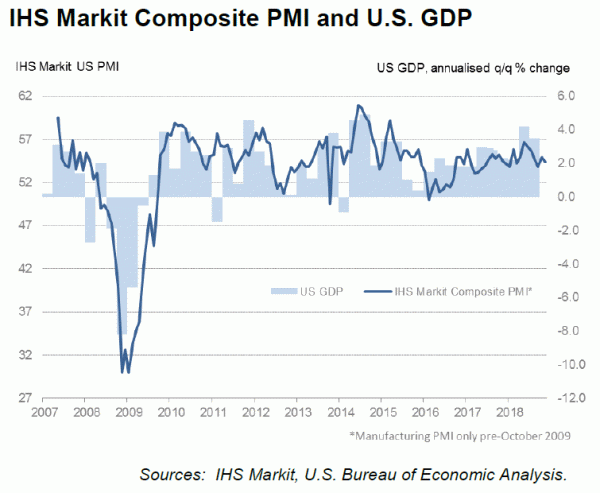 Commenting on the flash PMI data, Chris Williamson, Chief Business Economist at IHS Markit said:
"Solid flash PMI numbers for November add to evidence that the US is enjoying sustained robust economic growth in the fourth quarter. The surveys are broadly consistent with the economy growing at an annualized rate of 2.5%, building further on the country's best growth spell since 2014 seen in the second and third quarters.
"The November survey does raise some warning flags to suggest growth could slow in coming months. In particular, growth of hiring has waned as companies grew somewhat less optimistic about the outlook. Goods exports also appear to also be coming under increasing pressure, often linked to trade wars having dampened demand. However, it should also be remembered that some pull back in growth was to be expected after October's numbers were boosted by a post-hurricane rebound, especially given the historically high levels of production, order books and employment.
"With growth remaining reassuringly robust and price pressures elevated, policymakers will be encouraged that the economy has so far withstood both the headwinds of trade war worries and the steady progress made to date towards normalising interest rates."