UK PMI services dropped to 53.5 in July, down from 55.1 and missed expectation of 54.7.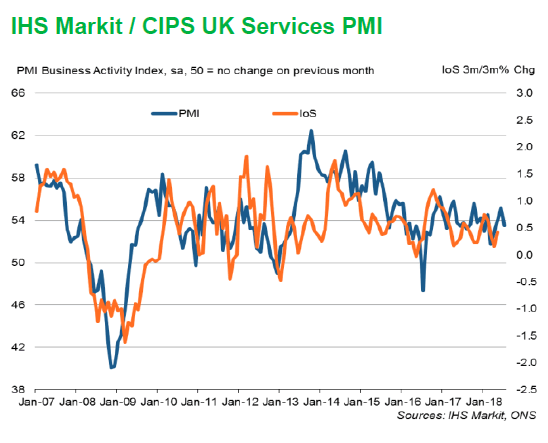 Tim Moore, Associate Director at IHS Markit, which compiles the survey:
"The service sector moved back into the slow lane in July as business activity growth lost momentum for the first time since the start of spring. While it's difficult to quantify the precise impact of the recent heat wave on overall business performance, some survey respondents reported that a combination of hot weather and the World Cup had weighed on consumer footfall. These short-term disruptions and a general slowdown in new business growth appear to have offset the boost to tourism-related activity from the extended dry period in July.
"Looking at demand fundamentals, service providers commented that Brexit uncertainty had held back new project wins, reflecting risk aversion and a wait-and-see approach to investment spending among international clients.
"Tight labour market conditions and rising wage pressures are also a key challenge for service sector companies, which contributed to the slowest pace of job creation since August 2016. Survey respondents are increasingly citing worries about the availability of suitably skilled candidates to fill vacancies, although this is also helping drive efforts to boost productivity across the service sector.
"Meanwhile, input cost inflation eased back from June's nine-month high, which helped to moderate the rate at which service sector firms increased their own charges. The combination of slower output growth and softer price pressures during July will reinforce expectations that any further Bank of England rate rises will be both gradual and limited."